Friday, April 13, 2018
Greens 4 Dreams Tournament supports military dependent Scholarships
Greens 4 Dreams Tournament supports military dependent Scholarships
Play for chance to win Caribbean Cruise/Pro Sports Tickets!
Quantico, VA, April 11, 2018– The Quantico Officers' Spouses' Club (QOSO) invites all military and civilians to participate in their annual Greens 4 Dreams Golf Tournament on April 27, 2018 at the Medal of Honor Golf Course. All proceeds benefit the QOSO Military Dependent Scholarship Program which is open to all dependents of active duty, retired or deceased services members of every rank and service in the Quantico area.
"Did you know that the average military dependent child will move 6-9 times in the course of their school career? That's more than three times what civilian children experience. Similarly, military spouses are 3 times more likely to be under-employed or need to change careers than their civilian counterparts," Toni Stinson, QOSO Greens 4 Dreams Event Chair said. "Getting an education and a career is challenging enough for military dependents, we think financial hurdles should be one less thing our military families should have to worry about and that's why QOSO has provided scholarships for decades," Stinson continued.
QOSO has awarded more than $130,000 in scholarship in the past ten years and Stinson hopes that this year's Greens 4 Dreams Golf Tournament will provide many deserving military dependent students a way to a higher education.
This year's Greens 4 Dreams Tournament boasts many prizes and contests, among them two cruises for two to the Caribbean or Mexico, professional sporting event tickets for two, golf gear and much more! Entry fee covers all greens fees, cart, tournament gift, breakfast and lunch and ticket for prize drawings!
Additionally, the tournament has FOUR FREE spots for junior Marines or Sailors to play! Service members must be E1 – E5 and must provide ID card proof on the day of the tournament. First come, first serve. Contact Event Chair at greens4dreams@qoso.org to sign up.
The tournament is scramble format with a shotgun start at 8:00 a.m. Foursomes that register together receive a discounted fee of $360 and individual golfers are $100. Registration closes Wednesday, April 25, 2018.
For more information and to register, please visit www.greens4dreams.com
Come out and support your military community and have a great time doing it
---
Wednesday, April 11, 2018
RPI GROUP INC. NAMED AS 10th Annual SECAF FINALIST
RPI GROUP INC. NAMED AS 10th Annual SECAF FINALIST FOR
PRESTIGIOUS SECAF GOVERNMENT CONTRACTOR OF THE YEAR (UNDER $7.5 MILLION IN REVENUE)
RPI Group Inc. Honored for Excellence in the Government Contracting Industry
April 3, 2018, McLean, VA – RPI Group Inc. (RPI) announced that it was selected as a finalist for the 10th Annual Small and Emerging Contractors Advisory Forum (SECAF) Awards. Winners will be announced at the SECAF Awards Gala on Tuesday, May 10, 2018 at the Hilton McLean in Tysons Corner. The event honors small and emerging government contractors and the players in the industry that rely on small business.
2018 finalists are named in the following categories:
SECAF Government Contractor of the Year (Under $7.5 Million in Revenue)
SECAF Government Contractor of the Year ($7.5 to $15 Million in Revenue)
SECAF Government Contractor of the Year ($15 to $27.5 Million in Revenue)
SECAF Award of Excellence
SECAF Government Project of the Year
SECAF Small Business Mentor/Partner of the Year
RPI Group Inc. is a finalist for SECAF Government Contractor of the Year (Under $7.5 Million in Revenue). "We are pleased to be selected as a SECAF award finalist!" states Robert Pleban, President and CEO of RPI. "This is a highly prestigious award in the Washington DC marketplace for government contractors. RPI is honored to be chosen in this extremely competitive category."
"For the last decade, the SECAF Awards Gala has spotlighted the tremendous small businesses that are doing outstanding and innovative work in the government contracting community," said Cameron Hamilton, Senior Managing Director at The McLean Group and one of the 2018 event chairs. "We are thrilled to recognize RPI Group Inc., as it is a shining example of the tenacity, vision, and commitment that enable the community of small business government contractors to deliver excellence year in and year out."
About RPI Group Inc.
Founded in 2001, RPI is a privately-held, CVE verified service-disabled veteran owned small business (SDVOSB); Small, Woman and Minority-Owned (SWAM) and Virginia Values Veterans (V3) company, providing a variety of tailored services to the National Security Community, the U.S. DOD and the Commercial marketplace. RPI brings together an accomplished team of national security, systems engineering and cyber experts with the experience, relationships, and qualifications to support a wide range of clients. RPI's core capabilities include: Cybersecurity & Secure Wireless Solutions, Network/Systems Architecture & Engineering, Industrial Control Systems Operational Technology (ICS OT), Training & Certification Testing, Research & Development, and Security Services. RPI is headquartered in Fredericksburg, VA with offices in Lexington Park, MD; King George, VA; Charleston, SC; San Diego, CA and Littleton, CO.
About The 10th Annual SECAF Awards Gala
The 10th Annual SECAF Awards Gala is the premier commemorative event honoring the small and emerging government contractors and the players in the ecosystem that rely on small business. The event, expected to sell out at more than 500 attendees, will be held Thursday, May 10, 2018, from 6:00pm to 9:00pm at the Hilton McLean in Tysons Corner. Tickets and tables can be purchased at: www.secaf.org.
About The Small and Emerging Contractors ...
---
Tuesday, April 10, 2018
Startup wants to offer pedal-powered tours of downtown Fredericksburg
Startup wants to offer pedal-powered tours of downtown Fredericksburg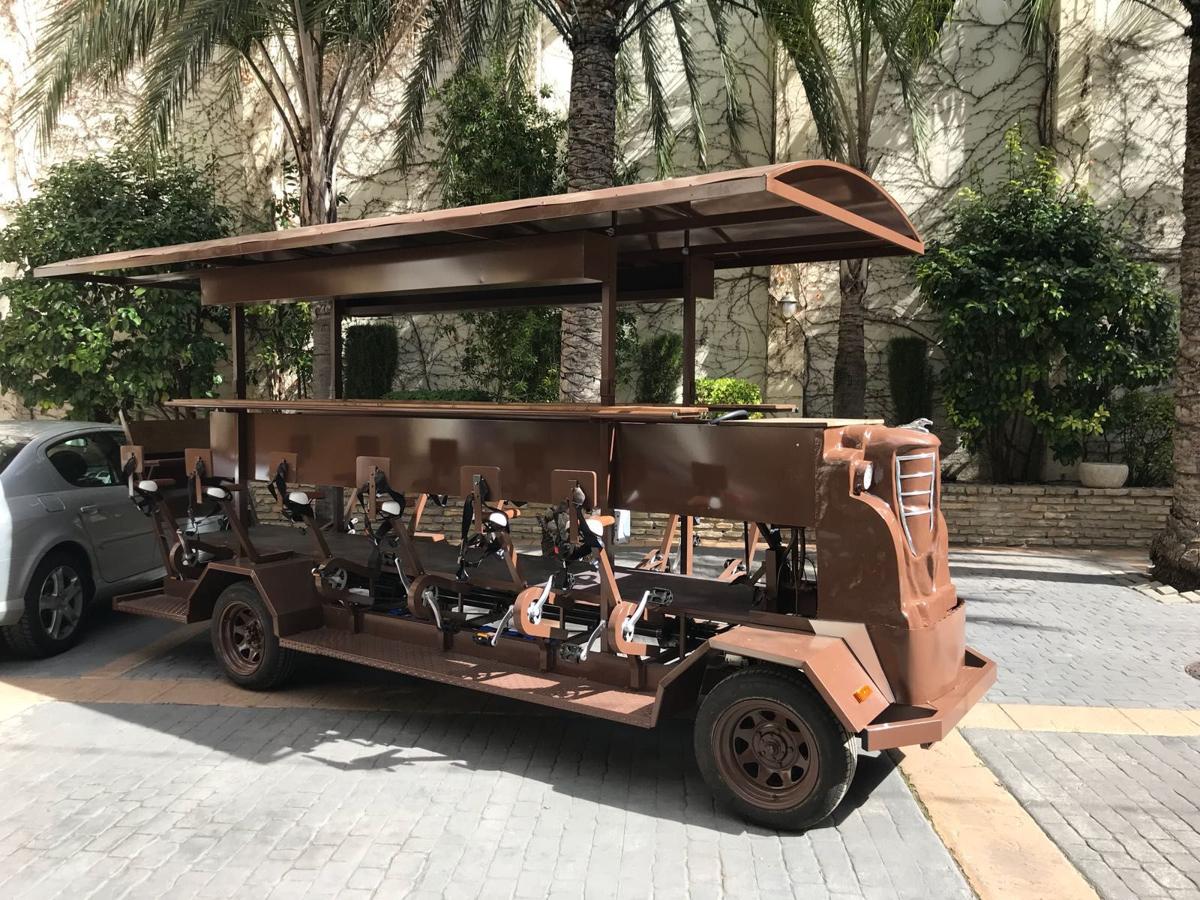 Olde Skool Tours is seeking City Council's approval to operate pedal-powered tours of downtown Fredericksburg.

Olde Skool Tours will be available for bachelor and bachelorette parties as well as weddings.

Visitors may soon be getting a unique way to tour downtown Fredericksburg.

The City Council will hold a public hearing and take the first of two votes on Olde Skool Tours LLC's request to operate pedal-powered tours of the area's historic sites, breweries and coffee shops when it meets at 7:30 p.m. this Tuesday in City Hall, 715 Princess Anne St.

If the tour company receives final approval at the council's meeting on April 24, it will join the ranks of walking, trolley, bus and horse-drawn carriage tours offered in the city's historic district next month.

Fredericksburg, which had 36,000 tourists stop at its Visitor Center last year, has eight tour operators downtown, according to Danelle Rose, Fredericksburg's tourism services manager. They include John Kanaster, owner of Fredericksburg Tours LLC, who began offering walking tours last Sunday.

Tanya Ison, a financial analyst for a government contractor, said she was inspired to start Olde Skool Tours after spotting Big Red Pedal Tours' 15-customer pedicycle while in Philadelphia. Its open-air "tour bus" has 12 seats equipped with bicycle-type pedals lining each side, and a seat for three riders in the back. The customers provide most of the power for the vehicle, which has a backup motor to provide assistance on hills.

"I was like, we should really do this in Fredericksburg. This would be great," she said. We live in such a historical area, but my kids don't know much about it. This would work with high schools and field trips, and let people know where we really live."

Ison called Eric Keiles, Big Red Pedal Tours' founder, to get an idea of what she'd need to do to start her own tour. She also did a Google search for starting a business in Fredericksburg, and found a bevy of helpful resources on the city's website, fredericksburgva.com/150/Business-Development-Toolkit.

It included information about services offered by the University of Mary Washington Small Business Development Center. They include classes for people interested in starting a business, and Ison signed up for one. Among other things, it helped her figure out who the company's target audience would be and whether it would fill a niche.

Ison said the pedicycle is eye-catching, will likely attract both younger and older generations. It's also eco-friendly, since it relies on people to power the vehicle.

Her husband, Stewart Ison, a maintenance supervisor with experience in engine and bicycle repair, and their good friend, Christopher Paunov, a Virginia Tech grad who enjoys participating in historical re-enactments, both thought offering pedicycle tours of Fredericksburg was a good idea, she said. But they didn't take her seriously until she applied for a business license.

"They were like, 'OK, let's do it,' " Ison said.

If approved to operate downtown, ...
---
Tuesday, April 10, 2018
March Real Estate Market Brings More Gains Bad weather didn't keep buyers away
Fredericksburg, VA – (April 10, 2018) – The following analysis of the Fredericksburg, Virginia area housing market has been prepared by the Fredericksburg Area Association of REALTORS® based on analysis of brightMLS multiple listing data.

Despite cold weather, ice, and snow, buyers and sellers got together in the month of March to produce year-over-year increases in total sold dollar volume, median sold price, and units sold, further contributing to the decline in days on market. Total sold dollar volume increased over 7% to nearly $150 million fueled by a median price of $299,500, representing a nearly 7% increase over March of 2017. Units sold remained fairly static at 474 compared to 466 last March, a 1.72% year-over-year increase.

Days on market, the time it takes from when a listing enters the market until it receives a ratified contract, fell nearly 12% with houses averaging 68 days on the market in March of 2018 compared to 77 days in March of 2017. Days on market varies widely across the Fredericksburg region with a high of 109 days in King George County to a low of 56 in Stafford County for the month of March.

Active listings posted a more than 10% drop from March of 2017, with 1,310 active listings for March 2018 compared to 1,466 last year. New listings also saw a small year-over-year decrease with 966 new properties coming available in March 2018 compared to 1,007 in 2017, representing a 4% decrease. The market is currently running at a 2.6-month supply. Months of supply is the measure of how many months it would take for the current inventory of homes on the market to sell, given the current pace of home sales. A 5-month supply of homes is considered a healthy market, offering opportunities for a range of prospective buyers. The market is currently seeing the lowest months of supply levels in over 10 years. The supply peaked in 2008 with a 12-month supply of homes in June of 2008.

"The spring market has started strong," states FAAR Board Member Drew Fristoe. "Buyers and sellers who have been waiting have decided to start the buying or selling process. The slightly higher interest rates are helping to get buyers to move. This spring looks to be a good one. "
---
Monday, April 9, 2018
HELP AVAILABLE FOR WOMEN AFFECTED BY TRAUMA
Fredericksburg, Virginia – Many women who struggle with substance use disorder have experienced trauma earlier in their lives. Numerous studies show a correlation between substance abuse and past trauma. Often, these adverse experiences can complicate the recovery process. Fortunately, research has also shown that recovery from both trauma and substance abuse is possible. The Rappahannock Area Community Services Board will offer a program that can help women develop coping skills and work toward healing.

The group-therapy program is based on the curriculum "Beyond Trauma: A Healing Journey for Women" by Stephanie Covington. It will begin on April 27, and will run for 12 sessions on Fridays from 12:30—2 p.m.

Project LINK, which is part of RACSB, is sponsoring this clinical treatment group. Transportation assistance will be available for participants.

"This program will provide hope for women impacted by trauma or violence," said Glenda Knight, Project LINK Program Manager. "Participants will learn coping skills and grounding techniques. Beyond Trauma can give them the tools they need to build a brighter future."

To sign up for Beyond Trauma, call Knight at 540-891-3132 or email gknight@rappahannockareacsb.org

Founded in 1970, RACSB provides public mental health, developmental disability, substance abuse and prevention/early intervention services to the residents of the City of Fredericksburg and the counties of Caroline, King George, Spotsylvania and Stafford. To learn more, visit www.rappahannockareacsb.org.
---
Friday, April 6, 2018
CARDINAL INSTITUTE FOR HEALTH CAREERS ANNOUNCES HIRING OF VETERAN
March 2018—Cardinal Institute for Health Careers (CHIC) is proud to announce and welcome Dayna Whiting as our new Administrative Assistant. Whiting will be responsible for leading CIHC through the accreditation process, which will allow CIHC to accept federal student aid funding such as: Department of Veterans Affairs (VA) Education Benefits, Iraq and Afghanistan Service Grant, Additional Federal Pell Grant Funds, Student Loans and Scholarships.

Whiting served in the United States Air Force until her discharge in 2006. She has held administrative assistant roles in various fields throughout her career, to include information technology, education, and the health & wellness industry.

"I have always wanted to help people. My desire was for a position that would be both a challenge and rewarding," shares Whiting, "I feel I have what I was looking for here at CIHC. I'm looking forward to helping those who have a passion for helping others."

Whiting comes to CIHC with a Master in Business Administration and a Bachelors in Information Technology.

"We are exceptionally pleased to have Dayna become a part of CIHC," shares Linda Copeland, R.N. & President of Cardinal Institute for Health Career, "We take great pride in our veterans who sacrifice for our country. Dayna's extensive military experience, organizational skills, and commitment to duty will significantly contribute in CIHC achieving accreditation status, which will support students' financial endeavors. We are actively hiring veterans and are always open to discussing career and teaching opportunities, especially those who are licensed registered nurses."

To learn more about CIHC contact info@cihealthcareers.com or 540-479-6600 for more information.

###

About Cardinal Institute Testing Center: CTC is located at 150 Riverside Parkway, Suite 215, Fredericksburg, VA 22406. For more information, please contact us at (540) 479-6600

About Cardinal Institute for Health Careers (www.cihealthcareers.com): Founded in 2008, CIHC offers allied healthcare education programs such as Phlebotomy, Personal Care Aide (PCA), Nurse Aide, Medication Management Aide, American Heart Association Basic Life Support, and American Heart Association CPR/AED training. CIHC is located at 150 Riverside Parkway, Suite 211, Fredericksburg, VA 22406. For more information, please contact us at (540) 479-6600.
---
Friday, March 16, 2018
Risk Management And Judgement Under Uncertainty
Risk Management And Judgement Under Uncertainty Risk Management And Judgement Under Uncertainty

featuring

Paul Quimby Associate Director Cask LLC

PMIWDC Non-Member Rate

$20.00 Event Date Saturday, March 17, 2018 - 8:30am - Saturday, March 17, 2018 - 10:00am Event Location

Cask Technologies LLC
475 Aquia Towne Center Drive - Suite 305
Stafford, VA, 22554

See map: Google Maps Agenda and Cost:

Agenda
Registration and breakfast buffet: 08:15 a.m. – 09:00 a.m.
Network with project management professionals: 08:30 a.m. – 09:00 a.m.
Announcements: 08:50 a.m. – 09:00 a.m.
Featured presentation: 09:00 a.m. - 10:00 a.m.
Wrap up: 10:00 a.m. – 10:15 a.m.
Cost
Pre-registration deadline is March 15th
Member Pre-registration: $15
Non-Member Pre-registration: $20
On-Site Member Rate: $20 (cash or check only)
On-Site Non-Member Rate: $25 (cash or check only)
Cancellations and refund requests are accepted up to 48 hours prior to the day of the event. We cannot offer refunds requested after that time.

Location

475 Aquia Towne Center Drive - Suite 305

Stafford, VA 22554

There is no such thing as perfect knowledge. Risk – either negative or positive – is a function of uncertainty about the project and its environment. Risk Management is the disciplined approach to managing uncertainty by encouraging proactive thinking about project, program, and portfolio outcomes. Risk Management saves time, money, and human resources because it forces project teams to consider the "what ifs" that could happen to the project, and in doing so, teams develop strategies for handling threats and opportunities before they become issues.

In "On Risk Management and 'Judgment Under Uncertainty'," Paul Quimby explains how groundbreaking behavioral psychology research on heuristics and biases from Nobel Prize Winner Daniel Kahneman and Amos Tversky can affect the risk management processes of risk identification, risk analyses, and risk response planning.

Participants will review the risk management lexicon and risk management attributes, learn (in general) how human beings make decisions under conditions of uncertainty, and participate in a couple of explanatory exercises that highlight how heuristics and biases influence judgment under uncertainty. In addition, Paul highlights the implications of these heuristics and biases for Project Managers and Project Teams in the context of Risk Management.

The intent of the presentation is to help Project Managers and Project Teams improve their decision-making processes through a better understanding of the heuristics used by many people to make judgments under conditions of uncertainty and the biases to which the heuristics point.

PDUs Available: 1.00 PDUs for Certified PMs Talent Triangle Category: Leadership Event Keywords Soft Skills Communication

Effective communication, in general: audience, media / message, attention vs. "noise", etc.

Negotiation / Conflict

Tools and techniques for negotiations and conflict management / effects of personality traits, etc.

Industry / Sector Construction / Infrastructure

Construction, Utilities or other public works, Transportation, or related industries

Government

Federal, state, local or tribal government entities / Contractor for such entities

I.T.

Information Technology, including organizations that utilize Agile development methodologies

About The Speaker Paul Quimby Cask LLC Associate Director

Paul Quimby has over 25-years of experience managing and consulting on information technology projects and technology infrastructure projects. Paul has led project teams in a wide variety of organizations. He has a passion for risk management ...
---
Friday, March 16, 2018
2018 Leadership Summit: Featuring Speaker Justin Patton
2018 Leadership Summit

Media Release

Date: March 15, 2018; FOR IMMEDIATE RELEASE

Media Contact Ann Marie Washington, Communications Coordinator

(540)373-9537, annmarie@fxbgchamber.org

FREDERICKSBURG – The Fredericksburg Regional Chamber of Commerce will host a Leadership Summit featuring international speaker, Justin Patton. The Summit will be Thursday, April 19, 8:00 a.m.-12:00 p.m. at Gari Melcher's Belmont.

Justin Patton is an acclaimed speaker and executive leadership coach who challenges leaders to think differently about how they lead and communicate. His high-energy and interactive approach keeps audiences engaged, and his message forces leaders to recognize how their leadership style appears when interacting with others. He has coached leaders at corporations such as General Electric, Taco Bell, NCAA, American Health Associates, the US Chamber of Commerce, Anthem, and many more.

Justin will conduct a hands-on program with the theme "It Starts With You." Leaders of all levels will be discover how they "show up" with others and focus on methods to use their strengths to grow as individuals and leaders. This informational half-day experience will allow you and your team to delve deep into self-examination and provoke candid conversation on topics of leadership in the workplace.

Seating is limited. Tickets are $50.00 per person, sponsorships are available. Please contact Whitney Watts at whitney@fxbgchamber.org for more details.

The Chamber would like to thank the following sponsors the Leadership Summit 2018:

Tile Sponsor: Atlantic Builders

Silver Sponsor: Available
---
Wednesday, March 14, 2018
SimVentions Awarded $3.5M Contract
SimVentions Awarded $3.5M Contract for Research & Development of Innovative Modeling & Simulation Technologies!
Fredericksburg, VA., 01-22-2018: SimVentions, Inc. has been awarded a $3.5M contract to support the Defense Modeling and Simulation Coordination Office's (DMSCO) mission by continuing research and development of innovative technologies to make DMSCO-sponsored tools more readily accessible to other key Modeling & Simulation (M&S) data repositories and catalogs across the government.
"DMSCO was one of our very early customers (back in 2003), and we have been supporting them ever since. It is a blessing to be able to continue our support of their critical efforts for another three years" said Larry Root, SimVentions CEO. "This award is a great example of the value and commitment our employees place on technical excellence, customer relationships, and living out our motto – Your Success Is Our Honor™."
SimVentions will support DMSCO's mission by providing the M&S Community of Interest Discovery Metadata Specification (MSC-DMS) with enhancement and technical support; development of secure, web-based M&S metadata enabling tools; and provide outreach and support to Department of Defense (DoD) M&S stakeholders. The contract is for three years and will run through January of 2021.
SimVentions has its corporate headquarters located in Fredericksburg (Stafford County), Virginia and offers engineering and technology solutions to the DoD including the Navy, Army, Air Force, and Marine Corps. This work will be performed onsite at the Fredericksburg, Virginia office. For additional information about SimVentions please visit us at www.simventions.com.
---
Wednesday, March 14, 2018
SimVentions Named one of the 'Best Places to Work in Virginia' for 6th Consecutive Year!
SimVentions Named one of the 'Best Places to Work in Virginia' for 6th Consecutive Year!
Fredericksburg, VA., 12-29-2017: SimVentions, Inc. was recently named as one of the 2018 Best Places to Work in Virginia. The annual list of the Best Places to Work in Virginia was created by Virginia Business and Best Companies Group.
This statewide survey and awards program is designed to identify, recognize and honor the best places of employment in Virginia, benefiting the state's economy, its workforce and businesses. The 2018 Best Places to Work in Virginia list is made up of 100 companies.
To be considered for participation, companies had to fulfill the following eligibility requirements:
– Be a for-profit, not-for-profit business or government entity;
– Be a publicly or privately held business;
– Have a facility in the state of Virginia;
– Have at least 15 employees working in the state of Virginia; and
Page 2 of 2
540.372.7727 (v) www.simventions.com 100 Riverside Parkway, Suite 123
540.372.7244 (f) Fredericksburg, VA 22406-1016
– Must be in business a minimum of 1 year.
"SimVentions is excited to be recognized as one of the Best Places to Work in Virginia for the sixth year in a row! We believe it is our servant-leadership style alongside a strong commitment to our core values of Customer Satisfaction, Employee Development, Technical Excellence, Integrity and Teamwork, Enthusiasm and Effort, Innovation, and Business Growth and Profitability that provides us 'the heartbeat of success' as we seek to serve God and Country! Our servant-leadership style and core values keeps our corporate culture and work environment something that everyone loves to be a part of!" said Larry Root, CEO, SimVentions. "We operate off of a foundation that believes that where your treasure is there your heart will be also…and our treasure is in: the God we serve; the customers we support; the work we do; the warfighters we touch; our employees and their families; and our community."
Companies from across the state entered the two-part survey process to determine the Best Places to Work in Virginia. The first part consisted of evaluating each nominated company's workplace policies, practices, philosophy, systems and demographics. This part of the process was worth approximately 25% of the total evaluation. The second part consisted of an employee survey to measure the employee experience. This part of the process was worth approximately 75% of the total evaluation. The combined scores determined the top companies and the final ranking. Best Companies Group managed the overall registration and survey process in Virginia and also analyzed the data and used their expertise to determine the final ranking.
The final rankings will be announced at an awards luncheon on February 1, 2018 at The Boar's Head in Charlottesville, VA.
SimVentions corporate headquarters is located just outside of Fredericksburg, Va. in Stafford County, with additional offices in King George, VA and Virginia Beach, VA. Since 2000, they have been delivering engineering (to include systems engineering, software engineering, cybersecurity engineering, and modeling & simulation), program & acquisition ...
---
Friday, March 9, 2018
YELP USERS' FAVORITE CASUAL CHAINS
YELP USERS' FAVORITE CASUAL CHAINS By Peter Romeo on Mar. 05, 2018

A diner is hunting for a casual-dining option and turns to the popular Yelp online guide for help. What entries are he or she most likely to check out before deciding where to eat?

Hint: The listings for Applebee's, Chili's and the other mass-market brands aren't likely to be the first stop.

A new analysis shows Yelp users are more prone to check out listings for local branches of small polished operations. The most likely entries to be visited, in order of page views per location, are Cooper's Hawk; Houston's or a sister brand run by Hillstone Restaurant Group; and Kona Grill.

A unit of Cooper's Hawk averages 2,942 page views per month, or more than four times as many as the largest single-brand operation on the top 10 list, The Cheesecake Factory (at No. 8.)

Top 10 casual operations by average per-location Yelp page visits
Cooper's Hawk, 2,942
Hillstone Restaurants (Houston's, Hillstone), 1,000
Kona Grill, 975
Front Burner (Whiskey Cake, Mexican Sugar), 975
BJ's Restaurants, 808
Firebirds Wood Fired Grill, 767
Landry's, 725
The Cheesecake Factory, 717
Pappas Restaurants, 692
J. Alexander's, 692
National behemoths score more attention when Yelp users resort to a search rather than browsing by location to find a restaurant. The most likely casual subjects of a search are The Cheesecake Factory (134,333 searches on average per month), Buffalo Wild Wings (128,833) and Olive Garden (102,333).

Top 10 most searched casual operations on Yelp
The Cheesecake Factory
Buffalo Wild Wings
Olive Garden
Yard House
Outback Steakhouse
Applebee's
Red Lobster
Benihana
Red Robin
P.F. Chang's
In trying to determine what propels a casual brand's popularity, Yelp found via the study that convenience and service tend to be key considerations. In both positive and negative reviews posted by users, those factors tend to be mentioned, it pointed out in the analysis.

The overall experience also figured into the calibration. Chains that drew the heaviest viewership tended to have an abundance of comments about such service features as table wait times, ease of parking and the host or hostess.

The positive reviews of casual places scoring high on the Yelp rankings tended to mention restaurant employees by name, and 32 of the 100 keywords used most often in the raves were references to service quality.

"Diners remember great service and will highlight it in reviews, which further reinforces the importance of rewarding employees who go above and beyond to deliver a great experience," the report said.
---
Tuesday, March 6, 2018
The Childress Agency, Inc. announces the 2018 recipient of #childresscares award to empowerHOUSE.
The Childress Agency, Inc. is proud to announce this years' recipient of #childresscares award to empowerHOUSE.

The team at empowerHOUSE work selflessly to provide victims of domestic violence with a place to turn for healing, hope and safety. We in turn are pleased to provide empowerHOUSE for a place to engage additional behind the scenes office support. As a proud member of the Fredericksburg and surrounding community, empowerHOUSE and Childress Agency will work together to create a new website and resources to support the staff and those in need of service.

Today the Executive Director, Kathy Anderson, along with Kelly Bricker, the Resource Development Coordinator met with Gerald Childress, C.E.O. to begin the building of a custom website to support their specific needs and wants. Please join us in showing your support of empowerHOUSE by making a donation to support their continued efforts of supporting survivors of domestic violence.

Past recipients of the #childresscares awards have gone to The Lloyd Moss Free Clinic, Fredericksburg SPCA, and Over the Dune.
---
Friday, February 23, 2018
Assembly advances bills to boost transportation funds for Fredericksburg area By JEFF BRANSCOME THE
Assembly advances bills to boost transportation funds for Fredericksburg area

Proposed legislation that could add millions of dollars for road improvements in the Fredericksburg region is moving forward.

Del. Bob Thomas, R–28th District, is the chief co-sponsor of a bill aimed at increasing revenue for localities—including Fredericksburg and Stafford and Spotsylvania counties—that impose a 2.1 percent regional wholesale gas tax. This fiscal year, the Fredericksburg area will receive an estimated $8.9 million from the tax, which goes toward Virginia Railway Express subsidies and road projects.

The bill would set a "floor," or minimum price per gallon, used to calculate the regional tax, which is also levied in Northern Virginia and Hampton Roads.

The General Assembly established a floor of $3.17 per gallon, the average price in February 2013, for the statewide gas tax as part of a major transportation package it approved that year. But it forgot to include a minimum for the regional tax and gas prices subsequently dropped to under $3—and even under $2 for awhile—per gallon, reducing revenue for the Fredericksburg region.

The initial floor would be the average cost of wholesale gas as of July 1, under the bill backed by Thomas. It could gradually increase until it matched the $3.17-per-gallon used to calculate the state's gas tax.

The legislation easily passed the House of Delegates, with just 15 lawmakers voting no.

In previous years, tax-averse Republicans on the House of Delegates have opposed legislation that would immediately increase the floor to $3.17 per gallon.

Thomas said in a text message Thursday that, under the legislation, the market would determine any increases to the floor, which could be adjusted semiannually. He said another pending bill would increase the floor immediately, but that all of the money would go to the VRE.

"This does not solve any local transportation issues, as we need the money to go to localities," he wrote of the latter bill. He added later: "If [the bill] gets momentum, I will work to make sure the money goes to localities. They can then decide what the priority is."

The Virginia Senate also unanimously passed legislation put forward by Sen. Richard Stuart, R–Stafford, to establish a multimillion-dollar fund for commuter rail projects. Stuart submitted a budget amendment that sets aside $40 million over the next two fiscal years, money that could be spent on expanding parking and rail capacity at the Fredericksburg area's VRE stations. A spokeswoman for Stuart called that amendment a "placeholder" and said a bill from another lawmaker would put about $26 million into the account.

The Fredericksburg region's lawmakers often propose transportation-related bills in an effort to appease their commuter-heavy constituency. But the legislation isn't always an easy sell, as evidenced by other bills this year.

Del. Mark Cole, R–Spotsylvania, came up short in his pricey proposal to add lanes to Interstate 95 from Spotsylvania to Springfield. The bill directed the Virginia Department of Transportation to "immediately commence" a project that would add a lane to both northbound and southbound I–95. The additional lanes would ...
---
Tuesday, December 19, 2017
Fredericksburg, VA - Dr. Anne Truong, M.D., Appointed Women Entrepreneur Ambassador for the United N
Dr. Anne Truong, M.D. was recently appointed Women Entrepreneur Ambassador by Women's Entrepreneurship Day Organization (WEDO), associated with the United Nations event in New York, NY. She will be representing the state ofVirginia beginning in January 2018.

WEDO is a privately-owned philanthropic organization with a mission and movement to empower women and girls globally, and alleviate poverty worldwide. WEDO Ambassadors will raise awareness of their business, make valuable connections, gain access to a premier network of extraordinary members and most importantly be a part of the greatest movement to empower women in business to alleviate poverty.

According to WEDO, women account for 85% of consumer purchases and control $20 trillion in global spending. At the same time, they perform 66% of the world's work (both paid and unpaid), yet only earn 10% of the world's income. In the U.S., there are approximately 10,000,000 woman-owned businesses. 1 in 3 women in America lives in poverty and of the 1.3M people living in severe poverty globally, 70% which are women and girls.

When asked how this role will serve the Fredericksburg community directly, Truong said "I'm honored to be appointed. I want to be able to inspire and empower women who want to be entrepreneurs and own their own business. I hope I can be a resource for women entrepreneurs in the Fredericksburg area."

Dr. Truong is the sole founder and owner of Truong Rehabilitation Center in Fredericksburg, VA. She has extensive experience in regenerative medicine, such as Platelet-Rich Plasma (PRP), Bone Marrow and Fat Cell PRP Therapy and Placenta/Amniotic Regenerative Cell Therapy, as well as numerous procedures in aesthetics and sexual health. Her practice provides pain management and rehabilitation without using opioid pain medications or surgery. She is focused treating the disease or problem, not the symptoms. She performs Trigger Point injections and Regenerative Therapies, ultra-sound-guided injections to joints and muscles, medical acupuncture and osteopathic manipulation. She has been doing regenerative cell therapy since 2006, and has taught numerous doctors all over the world on regenerative medicine. Her approach is to decrease pain and to restore strength and function without medications and/or surgery. Once pain reduction is achieved, she prescribes a personal wellness exercise program for patients.

To learn more about her practice, please visit: www.truongrehab.com
---
Friday, December 1, 2017
Have you seen our December Publication?!
Have you seen our December Magazine? Check it out below!

If you would like your business to be considered as a feature story or if you'd like to donate an article please contact Ann Marie Washington at annmarie@fxbgchamber.org.

Big thanks to our friends at Stafford Printing for all their hard work!
---
Thursday, November 30, 2017
RPI Ribbon Cutting Today!
In case you missed it,

RPI Group has moved to a new location!

To celebrate, you're invited to our

OPEN HOUSE

November 30, 2017

3:00 PM - 5:00 PM

11903 Bowman Drive | Suite 101

Fredericksburg, VA 22408

Fredericksburg Chamber of Commerce Ribbon Cutting Ceremony

will start promptly at 3:00PM.

Please RSVP to JBrookins@rpigroupinc.com.
---
Tuesday, November 28, 2017
2017 "Top 10 of the Next Gen" Announced!
FREDERICKSBURG - Ten Fredericksburg-area professionals under the age of 40 will be honored November 28 at an annual event hosted by the Next Generation of Business Leaders, a program of the Fredericksburg Regional Chamber of Commerce.

The members of the group will be recognized at the seventh-annual "Top 10 of the Next Gen" event at 718 Venue on Caroline Street downtown. The event starts at 6:00 p.m. and costs $20 for Next Gen members and guests. People can register online at www.fxbgchamber.org.

Next Gen's board selected the 10 winners following a nomination period. The recipients were chosen for both their professional accomplishments and community contributions.

Here are the 2017 "Top 10 of the Next Gen" award recipients:
Amanda Apple; Owner and Designer of Amanda Veronee
Dr. Joel Butterworth; Dentist and Owner of Fredericksburg Smile Center
Jonathan Gardner; Realtor with Coldwell Banker Elite
Andrew Grossnickle; CPA with Robinson, Farmer, and Cox
Ben Hall; Vice President with Community Bank of the Chesapeake
Kerry Mulhern; Photographer with Kerry Renee Photography
Sarah Ogle; Director of Payer Relations and Contracting with Mary Washington Healthcare
Jarrott Patteson; Market President with BB&T
Raymond Renault; Owner of La Petite Auberge and Legume
Jason Satterwhite; System Operations Supervisor with Rappahannock Electric Coop and Mayor of the Town of Bowling Green
---
Monday, October 2, 2017
Made in Fred VA Finalists Announced
Finalists selected for Made in FredVA contest
Three business ideas to compete for the $10,000 grand prize

FREDERICKSBURG – The three finalists have been selected for the fifth annual Made in FredVA business startup competition organized by the Next Generation of Business Leaders, a program of the Fredericksburg Regional Chamber of Commerce. The businesses selected are Beyond High C Singing Specialty, Fredericksburg Food Coop, and Mandala Pies. Each will have ten minutes to pitch their business ideas to a panel of distinguished local entrepreneurs at the November 2 event at the Inn at the Old Silk Mill in Fredericksburg. The judges will have ten minutes to ask the business owners questions.

The event is patterned after the popular "Shark Tank" television show. The winner will receive $10,000 toward their business startup expenses. Additionally, the audience will vote for the $500 people's choice cash award. Potential investors are encouraged to attend and hear the business ideas pitched. The public is welcome to attend the November 2 event, which begins at 6 p.m. Tickets will be sold for a nominal price.

Details about the finalists:
Beyond High C Singing Specialty, Kiersten Kanaster. Beyond High C Singing Specialty is an online group music program for survivors of brain injury. They offer low cost post-acute support that overcomes financial constraints, transportation difficulties and reduces social isolation and instances of depression. Beyond the brain injury population, they plan to adapt to serve dementia and autism populations.
Fredericksburg Food Coop, Rich Larochelle. The Fredericksburg Food Coop will be a full service grocery store that will focus on local foods, natural and organic products and practices. It will be owned and controlled by its local members.
Mandala Pies, Caitlin LaComb. Manda Pies bakes beautiful pies for beautiful people, connecting consumers to agriculture by using organically grown, local ingredients.
"We were thrilled to receive new and creative ideas for our fifth year of the competition," said Rich Brown, chairman of the NextGen board of directors. "It has been great to watch this program grow."

The final judges at the Made in FredVA event are Mike Adams, President, JON Properties, Gerald Childress, Owner, The Childress Agency, and DD Lecky, Owner, LibertyTown Arts Workshop.

The prizes are made possible through generous sponsorships from the City of Fredericksburg Economic Development Authority, the Stafford County Economic Development Authority, the Next Generation of Business Leaders, and Virginia Partners Bank.
---
Wednesday, September 13, 2017
Ribbon Cutting Today at Illusion Wraps
Join our Chamber members and others for the new location celebration at Illusion Wraps located on 3719 Lafayette Blvd., 22408. Starting at 4:10 p.m. or watch it on Facebook Live
---
Thursday, September 7, 2017
UMW to host debates this month between General Assembly candidates from Fredericksburg region
The University of Mary Washington will host two public debates this month between General Assembly candidates from the Fredericksburg region.

A four-way debate between Del. Mark Cole, R–Spotsylvania County, Green Party candidate Gerald Anderson, Democrat Steve Aycock and independent Amanda Blalock will take place on the Fredericksburg campus at 7 p.m. Wednesday in Room 411 of Lee Hall. Cole has held the 88th District seat, which includes parts of Fredericksburg and Spotsylvania and Stafford counties, since 2002.

The 28th District candidates vying to succeed House Speaker Bill Howell, R–Stafford will take part in a debate at 7 p.m. Sept. 21 at the same location. Democrat Joshua Cole, an assistant pastor at Union Bell Baptist Church in Stafford, will go up against Republican Stafford Supervisor Bob Thomas, a former Marine who owns a government contracting business.

Howell announced earlier this year that he would vacate the seat, which represents parts of Fredericksburg and Stafford, at the end of the year. He first won the election 30 years ago.

Both districts lean heavily Republican.

Cole, a deputy county administrator in Spotsylvania, is one of the General Assembly's more socially conservative members. He has run unopposed several times but is up against a crowded field this year.

Blalock is probably his best-known challenger, having served on the Spotsylvania School Board for 10 years. She is active on social media, helping her gain a measure of popularity with students. She resigned from the School Board in June after moving to another home in the county outside of the Lee Hill District.

Aycock, Cole's Democratic challenger, is seeking public office for the first time. He is associate pastor for missions at the Real Life Community Church in Stafford.

Anderson, another political newcomer, will be the first Green Party member to challenge Cole. The Fredericksburg resident is an adjunct chemistry professor at Germanna Community College.

The debates are sponsored by UMW's College Republicans, Young Democrats and the Legislative Action Committee of the Student Government Association, in conjunction with the Fredericksburg Regional Chamber of Commerce and The Free Lance–Star.

UMW political science professor Stephen Farnsworth will moderate both. The other panelists will be Ted Schubel, news director of News Talk 1230/WFVA and WBQB radio, and a Free Lance–Star representative. Written questions can be submitted in person shortly before the start of each debate.

For more information, contact Farnsworth at sfarnswo@umw.edu.
---
Thursday, September 7, 2017
Is civility declining? Chamber of Commerce holds panel to discuss the issue
Did Marvin Gaye have the answer 46 years ago?

In his 1971 song "What's Going On?," recorded just after the Civil Rights struggles and during the Vietnam War, Gaye sang: "Picket lines and picket signs/Don't punish me with brutality/Talk to me, so you can see/Oh, what's going on."

Susan Spears, president and CEO of the Fredericksburg Regional Chamber of Commerce, played the song before a chamber event titled "Civility in the Workplace" held Wednesday at Fredericksburg Academy.

"Music is a reflection of our culture at any given time when people can't find the right words," Spears said, introducing the event. "That song was written during a tumultuous time in our country. Sound familiar? Can it really be that simple [as just talking to each other]?"

The event brought together members of the local business community to begin a conversation about civility.

Panelists Mike Fidgeon, president of mental health service provider Pathways by Molina; Charlotte Horne, customer service representative at Rappahannock Insurance; Martha Hutzel, director of the Central Rappahannock Regional Library; and Andre Pineda, financial advisor and vice president at Cary Street Partners; led participants as they tackled such questions as, "Why does civility matter?" "Where does it start?" "Has it declined?" and "What should we do?"

Spears said she was inspired to organize the discussion by the chamber's value statement supporting integrity through "doing the right things for the right reasons," "giving fair and balanced consideration of issues" and "consistently treating members, staff and partners with respect and value for their unique contributions."

She said these values put the business community in a good position to start a conversation about civility in the wider community.

In his opening statements to the gathering, Pineda said it's up to the business community to "stand up and confront incivility."

"The energy you put out is what you get back," he said. "It is good business to be civil and it elevates everything."

Panelists and participants agreed that whether or not incivility is on the rise, it is certainly more visible now due to a 24-hour news cycle and the prevalence of social media, which allows people to "throw rocks from behind a virtual screen," Hutzel said.

A participant suggested that people are investing their personal feelings too much into public discourse. Pineda agreed, saying that those in the business community should set an example by making an effort to get news from a variety of sources and using facts rather than opinions in the discussion.

"We owe it to ourselves to raise the level of discussion," he said.

Hutzel said listening is equally as important as educated discussion.

"We were born with two ears and one mouth," she said. "We should listen more than we talk."

Spears asked the panelists to answer the question, "Where does civility start?"

Horne responded that it should start with the individual.

"You can't expect others to start—you do the right thing and it will spread," she said.

Participant Dick Ayres, a retired FBI agent and instructor at the FBI Academy in Quantico, suggested that civility is declining because ...
---
Wednesday, September 6, 2017
John Stallings named president of Union Bank & Trust after leaving SunTrust
By CAROL HAZARD Richmond Times-Dispatch

Veteran banker John Stallings Jr. has been named president of Richmond-based Union Bank & Trust, the bank announced Tuesday.

Stallings, who resigned last week as Virginia division president of SunTrust Banks Inc., will oversee the day-to-day operations of Union Bank & Trust.

In that role, effective Sept. 29, he will be in charge of the bank's 111 branch offices in Virginia as well as commercial and retail banking, wealth management, mortgage, marketing and digital strategy.

"The opportunity to lead all four business segments aligns perfectly with my background," Stallings said. "I am confident we can move even faster on a path toward greater growth and success."

Stallings, 50, will assume the presidency from John C. Asbury, who will retain his title as CEO of Union Bank & Trust as well as his position as president and CEO of Union Bankshares Corp., the Richmond-based holding company that owns the bank.

With Stallings' focus on the operational side, Asbury, 52, will focus more on strategy as the bank positions itself to become the first Virginia-based regional powerhouse in decades.

By industry standards, Union has a young and energetic leadership team, Asbury said. "We have the leadership to execute that growth — and John completes that picture."

"He has a deep connection to the region, operational expertise and a proven record of success leading a multi-business strategy at banks in Virginia, Tennessee and the Carolinas," Asbury said.

Union's pending Jan. 1 acquisition of Richmond-based Xenith Bankshares Inc. will push it over the $10 billion asset threshold, subjecting it to more regulations, but also allowing for a growth trajectory.

"We certainly have a lot of room to run in Virginia, but we also have opportunity for entry points in North Carolina," Asbury said.

Asbury said he expects to see continuing consolidation in the banking industry, which will allow for even more potential growth. The bank will look for what he called "infill acquisitions," where Union can buy small banks and expand its presence.

Adding Stallings to the executive team is part of the overall strategy, he said.

Stallings had been in Richmond for the past seven years, spending the last four years leading the Virginia team for Atlanta-based SunTrust. During his first three years here, he headed SunTrust's Mid-Atlantic division, which included Virginia and parts of North Carolina.

Before that, he was president of the Central Carolina region for SunTrust in Durham, N.C. He was head of retail banking for Memphis, Tenn.-based National Commerce Financial Corp. prior to its acquisition in 2004 by SunTrust.

While at National Commerce, Stallings helped start Richmond-based First Market Bank, which was affiliated with Ukrop's Super Markets Inc. National Commerce owned part of First Market Bank, which was merged with Union Bankshares in 2010.

Stallings has been in banking for 27 years, starting at National Commerce directly out of college. He received a bachelor of arts degree from Vanderbilt University in 1988 and took a two-year break in his career to earn a masters in business administration from Washington University in St. Louis in 1993.
---
Wednesday, September 6, 2017
Thom Watkins Named Vice President Cox Business for Virginia
Cox Communications recently announced that Thom Watkins has been promoted to vice president of Cox Business for Virginia. Watkins will be responsible for leading Cox Business operations, providing small, medium and enterprise businesses, including healthcare providers, K-12 and higher education, financial institutions and federal, state and local government organizations across the Cox Virginia service area with voice, data and video solutions. Watkins will lead approximately 375 employees. The Virginia region includes Northern Virginia (Fairfax and Fredericksburg), Hampton Roads and Roanoke.

Watkins will be based at the Hampton Roads headquarters in Chesapeake.
---
Wednesday, September 6, 2017
UMW to Host Two Delegate Debates
The University of Mary Washington will host an 88th District Debate on Wednesday, Sept. 13, and a 28th District Debate on Thursday, Sept. 21. Both debates will take place at 7 p.m. in Lee Hall, Room 411. They are open to the public.

On Sept. 13, incumbent Del. Mark Cole, a Republican, will debate Democrat Steve Aycock, Independent Amanda Blalock and Green Party candidate Gerald Anderson.

Cole has served as a delegate since 2002. He is a member of the House committees on Finance and Education, Small Business Commission, Rappahannock River Basin Commission and is chairman of the Privileges and Elections Committee.

Democratic challenger Steve Aycock is associate pastor for missions at the Real Life Community Church in Stafford County. Independent candidate Amanda Blalock served on the Spotsylvania County School Board for 10 years, including one year as chairman and four years as vice chairman. Green Party candidate Gerald Anderson is a member of the adjunct faculty at Germanna Community College.

The 88th District includes parts of Spotsylvania, Stafford and Fauquier counties and the city of Fredericksburg.

On Sept. 21, Joshua Cole, a Democrat, will debate Republican Bob Thomas. Cole began his political career in 2005, when House Speaker Bill Howell appointed him as a page for the House. He is an assistant pastor at the Union Bell Baptist Church in Stafford County.

Retired Marine Bob Thomas, the Republican candidate, is president and CEO of Capriccio Software in Stafford County. He has served on the Stafford County Board of Supervisors and was chairman in 2016.

The 28th District includes parts of the city of Fredericksburg and Stafford County.

Stephen Farnsworth, professor of political science and director of the Center for Leadership and Media Studies, will moderate the program and serve as a panelist. The other panelists will be Ted Schubel, news director of News Talk 1230/WFVA and WBQB radio, and a representative from The Free Lance-Star. Written questions from the audience can be submitted in person shortly before the start of each debate.

The debates are sponsored by UMW's College Republicans, Young Democrats and the Legislative Action Committee of the Student Government Association, in conjunction with the Fredericksburg Regional Chamber of Commerce and The Free Lance–Star.

For more information about the debates, contact Stephen Farnsworth at sfarnswo@umw.edu.
Additional information on each candidate can be found on their websites: www.aycockforva.com, www.marklcole.com, www.blalockforva.com, www.geraldlanderson.org, www.jgcole.org and www.thomasfordelegate.com

---
Friday, September 1, 2017
Local American Red Cross Chapter Updates on Hurricane Harvey
HURRICANE HARVEY UPDATE

FROM YOUR LOCAL RED CROSS OFFICE – RAPPAHANNOCK AREA CHAPTER

Situation Overview
The American Red Cross is working to provide disaster relief assistance to those impacted by Hurricane Harvey, called the worst flooding disaster in U.S. history.
The storm has set a record, surpassing 50 inches for the greatest amount of measured, single-storm, rainfall for the U.S.
Access to many areas is difficult. We have partnered with the U.S. Coast Guard and the Texas National Guard to transport supplies and volunteers to locations where they are needed most.
Water rescues are still occurring. Transportation, travel, and housing are expected to be negatively impacted for an extended period. Of course, schools and airports are closed. In certain locations, residents are without power. Multiple oil refineries, water treatment and chemical plants in Texas and Louisiana are closed.
Last night rescued families were brought to shelters manned by the Red Cross. It is estimated that 32,000 people sought refuge in more than 230 Red Cross and partner shelters across Texas Tuesday night.
As of this writing, more than 1,500 disaster staff is on the ground.
The Mexican Red Cross, a member of the Global Red Cross Network as is the American Red Cross, is working alongside us in shelters to provide relief. They are heavily engaged in keeping Spanish speaking survivors informed about the support that is available.
The Red Cross is working with a variety of disaster partners including Americorps NCCC, Save the Children, Islamic Relief USA, Church of the Brethren, Children's Disaster Services, and Southern Baptist Disaster Relief.
Twelve volunteers from our local Red Cross office have been deployed to Houston. In the Virginia Region, a total of 50 have been deployed thus far. Deployment covers approximately two weeks.
Six kitchens are up and running with six trailers of kitchen supplies in place.
Each kitchen can produce 10,000 meals a day.
Nearly two-thirds of the fleet of Red Cross ERVs (Emergency Response Vehicles) have been driven/deployed to Houston. This includes the ERV of our chapter.
The weather outlook indicates that rain/ life-threatening flooding will continue around Houston and into southwest Louisiana. Tornadoes are possible. The Red Cross anticipates that it will be working in the Houston area for many months on relief and long-term recovery efforts.
The Red Cross program Safe and Well is up and running. Safe and Well allows concerned loved ones all across the country to search for registrants' posted messages, to see that they are safe.
How You Can Help

Donate by Check

American Red Cross PO Box 248

Fredericksburg, Virginia 22404

Donate Blood

In consideration of the devastation in Texas, blood drives originally scheduled for this period in the impacted areas in Texas have been cancelled. Therefore, the blood collection shortage that we had before Hurricane Harvey has increased. To offset this shortage, individuals can help by donating blood; eligibility requirements. In addition to holding blood drives at local businesses, we regularly host blood drives at Spotsylvania Mall Towne Center, near Chick-Fil-A:
Mondays from 10 am – 4 pm (except the second Monday of each month)
Wednesdays from 1 pm – 7 pm
Our local chapter appreciates the ...
---
Tuesday, August 22, 2017
VDOT to unveil plans to upgrade U.S. 17 in Spotsylvania
(FL-S) Designs for the U.S. 17 widening and bridge replacement project in Spotsylvania County will be on display this week.

As part of the $20 million project, the highway will be widened to four lanes between U.S. 1 and Hospital Boulevard and a sidewalk and shared-use path will be added alongside the road.

The other portion of the project includes the replacement of the structurally deficient bridge over Interstate 95. The bridge also will be widened to four lanes.

No timeline for the project has been released.

The Virginia Department of Transportation will put the project designs on display at a public hearing on Wednesday. There will be no formal presentation, but VDOT officials will be on hand to answer questions and take comments.

The meeting will be held from 5–7 p.m. at Lee Hill Elementary School at 3600 Lee Hill School Drive.

The designs will be posted on VDOT's website by Wednesday.

Comments on the plan can be submitted through Sept. 2.

Comments sent by letter should be addressed to: Ms. Catherine Coffey, VDOT Project Manager, 87 Deacon Road, Fredericksburg, Va. 22405. Emails can be sent to Catherine.Coffey@vdot.virginia.gov, with "Route 17 overpass replacement and widening" in the subject line.

Scott Shenk: 540/374-5436 sshenk@freelancestar.com
---
Monday, August 21, 2017
Chamber to recognize first responders at "First Responders Appreciation Breakfast"
The Fredericksburg Regional Chamber is proud to present a new event to recognize and award first responders.

The "First Responders Appreciation Breakfast" is on Thursday, August 24 at the Fredericksburg Expo and Conference Center at 2371 Carl D. Silver Parkway in Fredericksburg, starting at 8:30 a.m. This regional event will highlight first responders from the counties of Caroline, King George, Spotsylvania, Stafford, the City of Fredericksburg, and the Virginia State Police.

Susan Spears, Chamber President & CEO, said this event would recognize men and women for their dedication, bravery and commitment to the community. This event represents the business community saying "thank you" for the quality of life this group provides to our region.

The following recipients will receive awards:

Meritorious Civilian Award- Phillip and William Atkins, father and son.
For their heroism on January 23, 2017, when they discovered a man lying face down in a parking lot in Fredericksburg. The man had had a heart attack and ultimately survived because of the Atkins's quick actions.

Excellence in Criminal Investigations- Detective Katie Pearce, Fredericksburg City Police Department.
For her integrity and dedication to clear a difficult active case.

Valor Award- Master Deputy Ben Doucet of the Caroline County Sheriff's Office and Medic Leigh Doucet, husband and wife.
For their actions on June 4, 2017, where they encountered and subsequently rescued a fellow deputy's two-year-old child that was drowning in Lake Anna.

Valor Award- Deputy First Class, Brandon Boyle of the Stafford Sheriff's Office.
For a breaking and entering incident involving a domestic situation that ultimately resulted in Deputy Boyle being shot five times.

Excellence in Criminal Investigation- Deputy Frank Corona Sr. of the Spotsylvania Sheriff's Office.
For his tedious work to bring closure of his assigned cases, attention to detail, and continued learning to the betterment of the department.

"Business of First Responding" - This award is given for a program, initiative, or system whose implementation has made significant impacts on the overall operations or delivery of services to the community.
Spotsylvania Fire Rescue Emergency Management, Fire Prevention Division.
For their innovative fire and life safety education program primarily focused on the young and the elderly.

Sponsors include Virginia Partners Bank, Hilldrup Moving & Storage, Mary Washington Healthcare, Heartfields Assisted Living at Fredericksburg, Patriot3 Inc., Embrace Treatment Foster Care, Sary Arka Business Solutions, Spring Arbor of Fredericksburg, Rejuvalase Medspa, and multiple table sponsors.

For First Responders unable to attend the event in person, many businesses are expressing their gratitude through the "Friends of First Responders" initiative and will offer special discounts to first responders in uniform or with identification. A link to these businesses can be found here.

For more information, contact Whitney Watts, whitney@fxbgchamber.org
---
Thursday, August 17, 2017
Industrial Land Sold in Fredericksburg
Cushman & Wakefield | Thalhimer announced the sale of approximately 4.55 acres of land situated along International Parkway in Stafford Industrial Park, City of Fredericksburg.

HDZ Transportation Inc. purchased the land from The Artisans Partnership LLC for $400,000 as an investment.

Sharon E. Schmidt and Joby Saliceti of Cushman & Wakefield | Thalhimer handled the sale negotiations on behalf of the seller.
---
Thursday, August 17, 2017
Don't Miss Tonight's Business After Hours
Join us for Business After Hours Thursday, August 17 starting at 5:30 p.m. - 7:30 p.m.

Hosted by Hilton Garden Inn, 1060 Hospitality Lane, Fredericksburg

Networking, food, drinks.
---
Wednesday, August 16, 2017
Governor McAuliffe Statement on President Trump's Press Conference on Charlottesville
Governor McAuliffe released the following statement after President Trump's press conference yesterday:

"Neo-Nazis, Klansmen and white supremacists came to Charlottesville heavily armed, spewing hatred and looking for a fight. One of them murdered a young woman in an act of domestic terrorism, and two of our finest officers were killed in a tragic accident while serving to protect this community. This was not 'both sides.'

"Our Commonwealth and nation are still reeling from one of the largest outpourings of hatred and violence we have experienced in recent history. We need real leadership, starting with our President.

"Leaders from every corner of this nation and every partisan point of view have denounced these people and their acts in plain terms without hesitation or dissembling. The American people need the same from their President and we need it now."
---
Tuesday, August 15, 2017
U.S. News & World Report Names Mary Washington Hospital Among Best in Washington D.C. Metro Area
Mary Washington Healthcare is named on the U.S. News & World Report 2017-18 "Best Hospitals" list has placed Mary Washington Hospital in the No. 2 spot among hospitals rated in the Washington D. C. metro area.

MWH ranked number six in the state among roughly 123 Virginia hospitals surveyed and received "high-performing" ratings in six adult procedures or conditions: chronic obstructive pulmonary disease (COPD), colon cancer surgery, heart failure, hip replacement, knee replacement, and lung cancer surgery.

"We're gratified again to receive this national recognition for the exceptional work of our physicians, nurses, and staff at Mary Washington Hospital," said Michael McDermott, MD, MBA, President and Chief Executive Officer of Mary Washington Healthcare. "These U.S. News rankings reaffirm for us that our stellar team provides each patient with the same safe, high-quality and compassionate care we'd want for members of our own families."

The annual Best Hospitals rankings, now in their 28th year, are part of U.S. News' patient portal, designed to help patients make informed decisions about where to receive care for life-threatening conditions or for common elective procedures.

For the 2017-18 rankings, U.S. News evaluated more than 4,500 medical centers nationwide in 25 specialties, procedures and conditions. In the 16 specialty areas, 152 hospitals were ranked in at least one specialty. In rankings by state and metro area, U.S. News recognized hospitals as high performing across multiple areas of care.

"For nearly three decades, we've strived to make hospital quality more transparent to healthcare consumers nationwide," said Ben Harder, managing editor and chief of health analysis at U.S. News. "By providing the most comprehensive data available, we hope to give patients the information they need to find the best care across a range of specialties."

The U.S. News methodologies include risk-adjusted survival and readmission rates, volume, patient experience, patient safety, quality of nursing care and other care-related indicators.
---
Friday, August 11, 2017
Hot Local Housing Market Continues into July
The temperature wasn't the only thing heating up during the dog days of summer, with the local real estate market posting another month of increasing sales, median price, and units sold coupled with decreasing days on market. Total sold dollar volume was up 14.15% compared to July of 2016 coming in at $196,474,044. This increase was fueled by a more than 9% increase in median sold price and a nearly 8% increase in units sold compared to the same time last year. In July of 2016, the market saw a median sales price of $275,000. That price increased to $301,000 in July of 2017. Units sold came in at 578 in July of 2016 compared to 622 in July of 2017. "This is an interesting time in real estate," stated FAAR 2017 President-Elect Kevin McGrath. "Offices are busier than they have been in quite a while. A lot of new agents are finding themselves getting busier much more quickly than new agents in the past."

Days on market, the amount of time it takes from when a listing enters the market until it has a ratified contract, decreased over 13%, going from 53 days in July of 2016 to just 46 days in July of 2017. "If a property is priced right, within 20 minutes of it going active in the Multiple Listing Service is seems like agents are setting up showings," commented McGrath.

Inventory continues to be a challenge in our market with yet another month of fewer listings than the previous year. July of 2016 saw 1,815 active listings on the market and July of 2017 had 4.9% less at 1,726. At the current time, there is a 3.56-month supply of available homes, a healthy market generally has about a 5-month supply of homes.

While sellers are putting their homes on the market more than last year, it isn't enough to keep pace with demand. July saw a 3.45% increase in new listings with 839 added to the market in 2017 compared to 811 in July of 2016. "Rising prices are due to a lack of inventory," continued McGrath. "We need sellers to list their homes in greater numbers than we're seeing to satisfy the increasing demand in the market."
---
Thursday, August 10, 2017
Fredericksburg Academy included in list of top 20 private schools in Virginia
BY ADELE UPHAUS–CONNER THE FREE LANCE–STAR


Fredericksburg Academy is the youngest school to be included in a new ranking of the best private schools in Virginia.

On Thursday, FA announced that the educational ranking and review resource Niche had placed it at number 20 on its 2018 list of Virginia's best private high schools.

According to its website, Niche rankings are based on "rigorous analysis of academic and student life data from the U.S. Department of Education along with test scores, college data, and ratings collected from millions of Niche users."

Founded in 1992, FA, an independent, coeducational school for children ages 3 through Grade 12, is the youngest school included in Niche's list.

"People often remark to me that Fredericksburg Academy is the region's best-kept secret," Head of School Karen Moschetto said. "A secret because, despite the incredible achievements of our students and exceptional quality of our faculty, many people remain unfamiliar with us. My greatest hope is that as more families understand what we do and begin to imagine the difference our school can make firstly in their child's education, but ultimately in their child's life, that we'll be able to share the unique opportunities FA has to offer with more children."

The top spot went to The Madeira School in McLean.
---
Thursday, August 10, 2017
Southbound extension of toll lanes in Stafford on track to open this fall
By SCOTT SHENK THE FREE LANCE–STAR

A portion of the express lanes' southern-end extension in Stafford County is on pace to open before the end of the year.

Plans call for the extension being completed in 2018, but the southbound ramp extension could be finished in the fall.

Kelly Hannon, the local Virginia Department of Transportation spokeswoman, said things are running "by the project's scheduled completion dates, with the new southbound exit ramp opening by the end of 2017, and the new northbound entrance ramp opening by summer 2018."

The extension project is focused on the toll lane merge area around State Route 610 in North Stafford, where there have been congestion problems since the express lanes opened in December 2014.

The state and the private toll-lane operator Transurban are paying for the estimated $50-million extension.

There also is a study being conducted for a second extension, dubbed by local transportation officials as Fred Ex. This project would take the toll lanes south to the area around the U.S. 17 interchange, which will undergo a drastic overhaul as part of the Rappahannock River crossing project on Interstate 95.

The crossing project will include the construction of southbound collector-distributor lanes in the median of the interstate between the U.S. 17 area and State Route 3.

If the second extension comes to fruition, a tentative timeline calls for work to start in 2019 and be completed in 2022.
---
Wednesday, August 9, 2017
Governor McAuliffe Breaks Ground on I-395 Express Lanes Extension
RICHMOND - Governor Terry McAuliffe today joined the Virginia Department of Transportation (VDOT) and its private partner and operator of the I-95 Express Lanes, Transurban, to break ground on the start of construction of an eight-mile extension of the I-395 Express Lanes from Turkeycock Run near Edsall Road in Alexandria to the Washington, D.C. border. The project provides more options for faster and more reliable travel in one of the most heavily traveled corridors in the country and expands the region's network of express lanes. The project includes a long-term investment in transit for the corridor, through a yearly payment of $15 million (to be escalated annually) that will be paid by Transurban to the Commonwealth. This annual transit payment will support transit and multimodal initiatives benefitting the corridor.

"Anyone who travels on I-395 and I-95 today can attest that this is one of the most congested corridors in the country," said Governor McAuliffe. "Today's groundbreaking is the first project of the Commonwealth's larger Atlantic Gateway Initiative which aims to unlock the I-95 Corridor. The Atlantic Gateway Initiative and the I-395 project demonstrate how we can work with our public and private partners to improve the quality of life for Virginians and our visitors – and keep our new Virginia economy growing."

Secretary of Transportation Aubrey Layne added, "Under Governor McAuliffe's leadership, today's milestone is one more step toward expanding the express lanes network in Northern Virginia, and providing travelers with much-needed travel choices to reach their destinations faster. The key benefit continues to be options, and we are ready to focus on delivering this new choice on 395."

The I-395 Express Lanes project provides specific benefits for the thousands of commuters who work at or near the Pentagon, as well as the many carpoolers or commuter bus users transferring at the Pentagon to continue to their destination. By reconstructing the Pentagon's South Parking area and adding new bus lanes and HOV commuter and "slug" lanes to improve traffic flow and safety for buses and carpools, the project's benefits extend well beyond the express lanes.

Other key project features include adding a fourth regular lane on I-395 South between the Duke Street and Edsall Road Interchanges, to help relieve the congestion which occurs when I-395 shrinks from four to three lanes in this area. Additionally, the project includes rehabilitating several I-395 bridges, and building new sound walls to protect neighboring communities.

The project is anticipated to cost approximately $500 million, with a combination of private and public funds. The project is one element of the Commonwealth's Atlantic Gateway Program, a series of major improvements to the I-95/I-395 corridor.

"We are pleased to partner with Virginia to deliver a critical missing link that will connect Express Lanes customers to new destinations along I-395 and Washington D.C.," said Jennifer Aument, Group General Manager, North America, Transurban. "Crews will begin work right away on improvements that are going to help drivers on I-395 get home faster, while also generating funds to support new transit options. As construction begins, we ...
---
Wednesday, August 2, 2017
Officials ready to celebrate US Route 1 expansion
By Max Smith | @amaxsmith

After nearly two decades of wrangling, work is almost done on the widening of Richmond Highway from four lanes to six near Fort Belvoir.

WASHINGTON — A traffic-clogged section of Richmond Highway has been widened from four lanes to six, and local, state and federal officials are set to celebrate the long-awaited project Wednesday morning.

The 3.6-mile widening near Fort Belvoir includes upgrades at intersections and improvements to make it easier and safer to walk or bike along the corridor.

Finishing touches are expected to continue for at least a few more weeks.

Actual work on this stretch began in 2013 after about two decades of wrangling. Base Realignment and Closure changes drove, even more, traffic to the base, contributing to the Pentagon putting $180 million toward the project.
---
Wednesday, August 2, 2017
UMW named a top college by Princeton Review
The Princeton Review has featured the University of Mary Washington in its 2018 issue of "The Best 382 Colleges."

The book, now in its 26th edition, profiles about 15 percent of America's 2,500 four-year colleges, as well as two colleges outside the U.S.

Surveying 137,000 students, the book assigns scores rating schools in eight categories including admissions selectivity, academics and quality of life. Schools that met the criteria were not ranked in order.

In this year's profile of UMW, The Princeton Review said the school "offers a sense of community and tons of school spirit," along with small class sizes, one-on-one time with professors and a plethora of undergraduate research opportunities.

The publication touts UMW's proximity to Washington, commitment to community service and welcoming campus community. It also points to the university as a "great liberal arts school" with strong academics and engaging faculty members.

The recognition is the latest by selective college guides to rank Mary Washington among the nation's best. It has also been highlighted by the Fiske Guide to Colleges, Money Magazine and USA Today.
---
Wednesday, August 2, 2017
Ribbon Cutting for Medical Imaging of Fredericksburg LIVE!
Join us today at the ribbon cutting for Medical Imaging of Fredericksburg at 4 p.m.

1201 Sam Perry Blvd., Fredericksburg 22401 Suite 102

Or . . . tune in LIVE streaming from the FredRegChamber Facebook Page @ 4:10 p.m.
---
Wednesday, July 26, 2017
Made in FredVa applications now being accepted
Applications are being accepted for 2017 Made in FredVA business start-up competition.

Interested entrepreneurs will have until Sept. 1 to submit business concepts online at madeinfredva.comfor the chance to win an as-yet undetermined amount toward start-up expenses. There will also be a $500 People's Choice cash award.

Applications will be reviewed in early September and finalists announced by Sept. 15. There is no cost to apply, and start-ups or new divisions of existing companies qualify.

The three finalists will pitch their idea in a live finale on Nov. 2 at the Inn at the Olde Silk Mill.
---
Tuesday, July 25, 2017
Medical Imaging of Fredericksburg Introduces New Life-Saving PET/CT Technology in Fredericksburg
Medical Imaging of Fredericksburg has installed a new PET/CT machine as part of its commitment to bring the latest technology to the region. The addition of this equipment to the facility will provide doctors with the newest molecular imaging technology to detect and treat cancer.

The molecular imaging capacity of this new equipment provides detailed pictures of biological processes on a molecular and cellular level. This allows doctors to detect cancer earlier, use a lower dose of radiation, and see higher levels of accuracy. The new PET/CT machine places Medical Imaging of Fredericksburg on par with some of the most prominent cancer research hospitals, including Johns Hopkins, UVA, and VCU.

"We've made this investment to equip local physicians and our community with the best tools possible in the fight against cancer." - Practice Administrator Christopher Snyder

The positron emission tomography (PET) and computed tomography (CT) machine works through tracers that are injected into the vein and then highlighted under a PET scanner. The PET scan allows doctors to see the level of chemical and metabolic processes taking place in the body while the CT scan displays the functionality of organs and tissues.

The scan measures blood flow, oxygen use, and how your body uses sugar. This enables doctors to identify benign and malignant growths earlier than ever. By providing a whole-body survey in a single session, doctors can detect cancer, see how far it has spread, and determine the best course of treatment for the patient.

The PET/CT scanner will not only help cancer patients, but also others suffering from Alzheimer's, dementia, movement disorders like Parkinson's disease, and epilepsy. The versatility of the machine will make this addition to Medical Imaging of Fredericksburg an indispensable medical technology, one that will save countless lives.

For more information or to make an appointment, please call 540-741-XRAY or go to mifimaging.com/services/petct-scan.
---
Monday, July 24, 2017
Unemployment falls to 3.7 percent
From Virginia Business

Virginia's unemployment rate dipped to 3.7 percent in June.

The Virginia Employment Commission reported on Friday that June's rate represented the first decline after a three-month period during which the unemployment remained unchanged at 3.8 percent.

The June 2017 rate also was down three-tenths of a percentage point from the June 2016 figure, 4 percent. Unemployment now is at the lowest level in the Commonwealth since April 2008.

The jobless rate numbers are based on seasonally adjusted data, meaning they take into account seasonal fluctuations in the labor market.

During June, Virginia's labor force expanded for the 15th consecutive month to 4.31 million, a new record. Nonfarm employment increased by 9,400 jobs during the month to 3.96 million, also a record.

The national unemployment rate for June was 4.4 percent, seven-tenths of a percentage point higher than Virginia's figure.

Employment in six Virginia industry sectors rose in June while falling in four segments and remaining unchanged in one, information.

The biggest increase occurred in the leisure and hospitality industry, which added 7,400 jobs to reach a total of 407,500.

The largest job declines occurred in two sectors — manufacturing and professional and business services — which lost 2,400 positions each. The new totals are 231,000 jobs in manufacturing and 733,100 in professional and business services.
---
Wednesday, July 12, 2017
Ribbon Cutting for Medical Imaging of Fredericksburg
Today at noon, July 12. Tour and learn more about their 3D Mammography equipment.

10401 Spotsylvania Ave. Suite 101, 22408
---
Tuesday, July 11, 2017
EDA approves grants, discusses future grant process
Fredericksburg's economic development authority approved more than $10,000 in grants at its Monday meeting and discussed the future of its grant cycle, which has been a major impetus in revitalizing downtown business locations.

All grants were made under the EDA's façade improvement, JumpStart!, event sponsorship and arts programs. The EDA funds its grants through the fees it collects from private organizations in exchange for representing those groups' tax-exempt bond issuances.

The EDA accepts grant applications four times per year, with its next deadline in September.

This façade improvement matching grant was approved:
$5,000 to Jonathon Chen for a gate, door and trim repair at 1005 Princess Anne St.
This nonprofit JumpStart! grant was approved:
$717.15 for Tree Fredericksburg to plant shrubs at the entrance to train station.
Event sponsorships approved were:
$1,500 to Fredericksburg Book Festival
$2,000 for the Made in FredVa competition to the Fredericksburg Regional Chamber of Commerce
$1,500 to a new event, the Fredericksburg Jazz Festival, for an Oct. 7 jazz festival to be held in Market Square
A total of $10,717.75 was given out in grants.

The EDA declined requests for funding for projects including an awning for the rear of 809 Caroline St., new signs at 403 William St. and fundraiser by Children's Museum of Richmond.

At Monday's meeting, the EDA also discussed the future of its grant program and how its committees should be made up.

There was a rancorous discussion about how many members should be appointed to committees, whether all members should participate in the grants committee and even how many women should serve on each committee. After that, Mitzi Brown was appointed to serve with Chris Muldrow on the grants committee, Beth Black was appointed as a representative of the EDA to the Riverfront Task Force, and Muldrow was added to the branding committee.

The group decided to add a review of the grants process to its Aug. 14 meeting, when it will discuss revising the process and what economic development activities it will support.
---
Tuesday, July 11, 2017
REC Announces New Member of Executive Leadership Team
John D. Hewa has joined Rappahannock Electric Cooperative's executive management team, where he will oversee several functional areas including Finance and Accounting, Human Resources, Safety and Security, and Technology Services.

Hewa has more than 20 years of leadership experience in the electric utility industry and a broad knowledge of the cooperative business model. He has served as the CEO of electric cooperatives in Texas and Florida, and as vice president of research, engineering, and technical services at the National Rural Electric Cooperative Association (NRECA). Prior to his cooperative career, Hewa managed the utilities department for the City of Manassas, Virginia. Hewa serves on the NRECA Governance Task Force and the Board of Directors for the Smart Electric Power Alliance (SEPA).

"There are many opportunities ahead for REC as it continues to grow," said Hewa. "I am excited to be part of REC's excellent tradition of providing outstanding service and value to its member owners. My family and I are glad to be returning to Virginia, and I am so appreciative of the opportunity to be associated with the dedicated REC team."

Hewa holds a Bachelor of Science in electrical engineering and a Master of Science in engineering management from the University of Tennessee in Knoxville. He is a registered professional engineer. Hewa and his wife Laura have three daughters.
---
Tuesday, July 11, 2017
Stafford-themed works on exhibit at Porter Branch through August
Uniquely Stafford art show highlights Stafford County

Central Rappahannock Regional Library's Uniquely Stafford art show is on exhibit at Porter Branch through August. Local artists were invited to submit works inspired by the Stafford experience. An opening reception will be held on Saturday, July 15, 6-8 p.m.

Janet Payne is juror and judge for this show. Payne was the Fine Arts Coordinator for Stafford County Schools for 18 years and was appointed to the Virginia Commission for the Arts by Governor L. Douglas Wilder.

One $1,000 Best in Show prize will be awarded, and additional cash prizes will be awarded in Painting, Drawing/Printmaking, Photography, Computer Generated Art, and Mixed Media. The opening reception and cash awards are generously donated by the Friends of the Library.
---
Thursday, July 6, 2017
Ribbon Cutting Today for CPR Fredericksburg
Held Thursday, July 6 at 4 p.m. located at 3940 Plank Road, Suite J, Fredericksburg 22407
---
Thursday, June 29, 2017
Ribbon Cutting Today for Crazy 4 Gaming Video Game Theater
Join us today at 4 p.m. for the ribbon cutting held at Hurkamp Park, Fredericksburg
---
Monday, June 26, 2017
Public viewing for new river crossing design
The public is invited to attend a citizen information meeting thist week to learn more about the revised design for the Interstate 95 southbound collector-distributor lanes – Rappahannock River Crossing project between Exit 133 (Route 17) in Stafford County and Exit 130 (Route 3) in the City of Fredericksburg.

The citizen information meeting will be held:

Wednesday, June 28, 2017
5-7 p.m.
Fredericksburg Hospitality House & Conference Center
Fredericksburg Room
2801 Plank Road (Central Park)
Fredericksburg, VA 22401
A brief presentation will be delivered at 6 p.m.

The revised design includes construction of three new I-95 southbound lanes in the current median of I-95 for through traffic. The new through traffic lanes would be built from North of Exit 133 on Route 17 in Stafford to just south of Exit 130 at Route 3 in Spotsylvania.

The three existing I-95 southbound lanes in this area would be converted to lanes for local traffic, also known as collector-distributor lanes.

The project would require the construction of a new crossing of the Rappahannock River, parallel to the existing I-95 southbound bridge, to carry the new lanes for through traffic.

The project seeks to reduce I-95 congestion in the Fredericksburg area by providing local traffic with an additional route to travel between Route 17 and Route 3 without merging into the interstate through lanes.

Stop by anytime between 5-7 p.m. on June 28 to review displays, proposed plans, and discuss questions with Virginia Department of Transportation (VDOT) staff.

For additional information, please visit the project page on www.VirginiaDOT.org. Meeting displays and materials will be posted to the page on June 28.
---
Thursday, June 22, 2017
Fredericksburg-area projects approved for state's six-year transportation plan
By: Scott Shenk (FL-S)

The Commonwealth Transportation Board on Tuesday approved the state's next Six-Year Improvement Program, establishing billions in funding for work during the 2018–2023 period, including projects in the Fredericksburg region.

The SYIP includes funding for Smart Scale projects, a 2-year-old scoring program aimed at helping pay for the most important road and rail projects in Virginia. The budget also includes funding for maintenance and operations work, which is a major transportation expenditure.

The $18.6-billion SYIP funding will pay for work on more than 3,600 projects across the state, according to the Virginia Department of Transportation.

VDOT's portion of the SYIP for its 2018 fiscal year budget is $5.41 billion, up 1 percent over last year. VDOT said in a release that the increase comes from more contributions from local and regional jurisdictions, which offsets a drop in state revenue. Without the local contributions, VDOT said its annual budget would be 4 percent less than fiscal 2017.

VDOT said maintenance and operations account for $2.13 billion of the 2018 budget while new construction will claim $1.87 billion of it.

The state's six-year funding program includes money for transportation work in the 14-county Fredericksburg District, including current and upcoming projects.

Two of the bigger new local projects in the SYIP are the $59.7-million Virginia Railway Express station expansions in Stafford and $14.4 million in improvements to the Interstate 95 interchange in Massaponax, both of which secured Smart Scale funding to cover a portion of the costs.

A total of nine Fredericksburg District projects got $26 million through the second round of Smart Scale. That total is in stark contrast to the $204 million the district got through the first round of Smart Scale. Much of the first round funding will go toward the $125-million southbound Rappahannock River Crossing project.

Other major local projects getting money in the six-year funding program include the planned replacement of both U.S. 17 bridges over I–95 in Stafford and a major rehabilitation project for the Chatham Bridge.

More than $20 million was secured for the U.S. 17 overpass projects.

The CTB allocated $17.7 million for the Chatham Bridge project, which is in the design phase. No timeline has been announced for the project yet, but a public hearing is expected to be held in January.

Area transportation leaders have recently ramped up efforts to find new ways to pay for the region's transportation infrastructure, including the northbound side of the Rappahannock River Crossing project, which did not score well in the Smart Scale program.

But it's not all bad

Hap Connors, the area's CTB representative, pointed out on Tuesday that the district is getting roughly twice as much transportation funding as it got two years ago.

"We often lose sight of that," he said in an email about the area's transportation funding." But still, more to do and more is needed."
---
Thursday, June 15, 2017
The Community Foundation surprises Germanna with $20,000 grant
The staff of the Community Foundation planned a surprise presentation at a fake board meeting on Germanna College campus on Thursday. This is how they surprised the winning education team who wrote the proposal for the $20,000 Visionary Grant for Education.

Ron Hunt, Grants Coordinator at Germanna, Shashuna Gray, Dean of Arts & Science, Scott Kemp, Interim VP for Student Success and Dr. Jeanne Wesley, VP for Workforce submitted a proposal for the grant on behalf of Germanna.

After reviewing several proposals from deserving area candidates, the foundation's Board of Governors voted unanimously to award their second of four $20,000 Visionary Grants to Germanna Community College in order to accelerate students' progress to reach meaningful certificate and degree goals, and ultimately the jobs of their choice.

The foundation's review committee selected Germanna's project, Paving the Way to Completion: Using Meta-Majors to Streamline the Path to Student Success, because it was the most promising strategy for advancing long-term educational goals and the most likely to benefit our entire community in a significant way.

With The Community Foundation's support, Germanna will adapt and evolve to the changing needs of students and the changing needs of employers seeking qualified graduates. In a rapidly changing economy, this grant will help students navigate departments and course choices efficiently and effectively.

In celebration of its 20th anniversary this year, the foundation is offering a special Visionary Grant cycle, distributing a total of $80,000

Area nonprofits may apply for a $20,000 Visionary Grant for Health/Human Services beginning June 23 with a submission deadline of July 28. The Community Foundation will announce the next grant award winner the week of September 25.
---
Wednesday, June 7, 2017
Abberly at Southpoint apartment building grand opening today
Abberly at Southpoint, a new 280-unit apartment living community by HH Hunt, will officially open on Wednesday with a ribbon cutting at 4 p.m. hosted by Fredericksburg Regional Chamber.

The complex is located in Southpoint Landing, on Abberly Village Drive near CarMax.

This free event will have live music, craft beer and gourmet food.
---
Tuesday, June 6, 2017
Germanna technology center to open June 6
The Germanna Community College Center for Workforce Fredericksburg Center for Advanced Technology will open its new Fredericksburg Center for Advanced Technology at 5 p.m. Tuesday, June 6.

GCC has leased 8,046 square feet from The Rappaport Cos. at 1315 Central Park Blvd.

The new center will be the city base for Germanna's apprenticeship programs, including electrical, welding, HVAC, industrial maintenance/machinist, masonry, plumbing, gas fitter, asphalt technician and construction inspector. It will also provide training for certificates in 3D Printing, small engine repair, drone building and operating and other skills.

There will also be a maker space.
---
Wednesday, May 31, 2017
Ribbon Cutting Today for Long Farmers Market
Wednesday, May 31 at 4 p.m.
121 University Blvd., at UMW Stafford Campus on Route 17 West
---
Monday, May 22, 2017
Breaking News: Union to acquire Xenith in $701M deal
From Richmond BizSense

Two of Richmond's biggest locally based banks are getting hitched.

Union Bank & Trust announced this morning a deal to acquire Xenith Bank in an all-stock deal valued at $701 million.

The combination would create the largest community bank in the state with $11.9 billion in total assets. Union and Xenith most recently reported total assets of $8.66 billion and Xenith's $3.19 billion respectively.

"The combination with Xenith delivers on our stated priorities for this year as well as our acquisition goals enabling Union to efficiently cross the $10 billion asset threshold," Union CEO John Asbury said in a prepared statement released today.

Union will gain its first significant branch presence in the Hampton Roads market, taking over a swath of locations Xenith took over through its merger last year with Bank of Hampton Roads, as well as Xenith's operations in Northern Virginia, North Carolina and the Eastern Shore.

"Deepening our presence in Hampton Roads and adding to our Richmond and Northern Virginia network were priorities for Union and we're also able to gain retail entry points in North Carolina and Maryland."

Asbury will serve as president and CEO of the combined organizations. Xenith CEO Gaylon Layfield will stay on only through a "transitional period" as executive vice chairman.

Xenith shareholders will receive 0.9 shares of Union stock for each of their Xenith shares. The deal value is based on Union's last closing price of $31.72 per share. It implies a value on Xenith's stock of $29.67 per share. It closed Friday at $26.87.

The deal has been approved by the board of directors of each company and is expected to close early next year.
---
Wednesday, May 17, 2017
Spotsylvania Regional Medical Center host Farmers Market every Wednesday
Spotsylvania Farmers Market at SRMC 4600 Spotsylvania Pkwy, Fredericksburg, VA 22408 May 17 @ 2:00 pm - 6:00 pm

This fun afternoon market is the perfect place to visit with family and friends and get your mid-week shopping done. Beautiful farm fresh produce, locally raised meat and eggs, artisanal breads and pastries, ice cold lemonade, hot popcorn and more! Fresh, affordable, and local! Open rain or shine. Cash, credit cards and SNAP/EBT are accepted.
---
Wednesday, May 17, 2017
Community-focused Professional Headshot Event
It's About Your Image May 24 @ 2:00 pm - 7:00 pm

Please join us from 2:00 p.m-7:00 p.m. May 24, 2017. Attend a FREE Vendor Fair and Head Shot Event. This is a great opportunity to meet some local business and donate to local charities.

They are offering a discounted rate of $50 for a portrait. Hosted by Movement Mortgage, STA title & Escrow, Catalyst, Century 21 New Millenium and Beauty Logic Designs. Also food & beverages, music, vendors, networking, door prizes, and on-site interviews. The event is held at Catalyst Media Center, 3451 Jeff Davis Hwy.
---
Tuesday, May 16, 2017
Chamber Event Today!
Tuesday, May 16- Ribbon cutting at Kelly Services located at 560 Celebrate Virginia Parkway unit 103 at 10 a.m. Stop by and welcome our new chamber members.
---
Tuesday, May 16, 2017
Check Out the Latest Chamber Business Magazine
---
Tuesday, May 9, 2017
Is Your Business PCI Ready?
Attend tomorrow's seminar at the Chamber Office starting at 8 a.m., breakfast served.
---
Wednesday, May 3, 2017
Leadership Fredericksburg is accepting applications for 2018 program
The Chamber's signature program - Leadership Fredericksburg – is accepting applications for its 11th year.

The nine-month course takes place at various locations around the Fredericksburg region. It provides the community with a pool of highly skilled and motivated leaders from a cross-section of industry who are committed to improving the quality of life in the region while leading with integrity, best practices, and guiding principles.

This highly selective program accepts approximately 27 participants annually. Each applicant submits a comprehensive application coupled with a supporting letter of recommendation. Applicants will be chosen by a selection committee that will use equitable criteria guidelines to select the participants.

HOW TO APPLY
To download the application for Leadership Fredericksburg, click here.You may also contact the Chamber office at (540) 373-9400 if you would like to receive an application by fax, mail, or email. There is a $25.00 application fee. The application deadline is Friday, June 30th, 2017.

For more information about Leadership Fredericksburg, visit our web presence at this link or contact me at 540-373-9563 orSheri@fredericksburgchamber.org
PROGRAM TITLE SPONSOR –Mary Washington Healthcare

Leadership Fredericksburg – the premier network of leaders in the Fredericksburg region!
---
Tuesday, May 2, 2017
Rappahannock Goodwill Acquires ServiceMaster Commercial Cleaning of Fredericksburg
Rappahannock Goodwill Industries (RGI) has acquired ServiceMaster Commercial Cleaning of Fredericksburg from Williams Maintenance. The acquisition will raise RGI's current employee count to just over 650.

"While we are new to the ServiceMaster Clean franchise network, we are not new to providing janitorial services," states Donnie Tolson, RGI President & CEO. "Teaming with ServiceMaster will enhance our capabilities and allow us to provide a wide array of services to our current and future customers as we fulfill our mission," Tolson adds.

RGI has been serving the Fredericksburg region for 50 years. The addition of the ServiceMaster Clean franchise allows RGI to expand its mission: to create jobs locally, prepare people to succeed at work, and help them overcome barriers to employment.

The new entity will be known as ServiceMaster Commercial Cleaning for Good and joins the RGI family of local commercial services including commercial and uniform laundry through RGI Laundry; local hauling by College Hunks Hauling and Moving; temporary staffing placements through Taskforce Staffing; and government facilities cleaning.
---
Monday, May 1, 2017
Leadership Fredericksburg-Now Accepting Applications for its 11th Year
HOW TO APPLY: To download the application for Leadership Fredericksburg, click here.
You may also contact the Chamber office at (540)-373-9400 if you would like to receive
an application by fax, mail, or email. There is a $25.00 application fee. The application
dealine is Friday, June 30th, 2017.
---
Wednesday, April 26, 2017
Rappahannock Goodwill Announces Changes in Leadership
Rappahannock Goodwill Industries President & CEO, Donnie Tolson, recently announced changes in key leadership within the organization.

Julie Bayless is promoted to Vice President, Finance & Chief Financial Officer. She has worked with RGI for 16 years.

Ted Smith is named Senior Vice President & Chief Operations Officer. Smith's responsibilities include donated goods, College Hunks Hauling & Moving, computer recycling, e-commerce, ServiceMaster Clean, RGI Contracts, and RGI laundry.

Julie Rettinger is Vice President, Branding & Chief Administrative Officer. In addition to overseeing community relations and resource development, she will be responsible for HR, training, facilities, and Taskforce Staffing. Rettinger has been with RGI since 2012.

Megan Bergen, who has been with RGI since 2003, is Vice President, Mission Services & Chief Mission Officer.

"We are excited to announce the changes in our leadership and responsibilities. Our goal is to help ensure Rappahannock Goodwill is sound and efficient – now and far into the future. This new structure will position us to achieve outstanding mission outcomes," said Tolson.
---
Tuesday, April 25, 2017
United Bankshares completes acquisition of Cardinal Financial Corp.
From Virginia Business

United Bankshares Inc. has completed its acquisition of Tyson Corner-based Cardinal Financial Corp.

The deal, valued at $912 million when announced last year, is United's tenth recent acquisition in the Washington, D.C., area.

Cardinal had $4.3 billion in assets, boosting United's total assets to more than $19 billion.

United has headquarters in Charleston, W.Va., and Washington, D.C.

With the addition of Cardinal's 22 banking locations, United now has 145 full-service offices in Virginia, West Virginia, Pennsylvania, Maryland, Ohio and the District of Columbia.

United officials said the bank now ranks No. 1 in deposit market share among community banks in the Washington area.

As a result of the acquisition, Bernard H. Clineburg, Cardinal's executive chairman, will join United's board of directors.
---
Tuesday, April 11, 2017
Dr. Janet Gullickson Named Germanna's Sixth President
(Fredericksburg.Today)

Dr. Janet Gullickson has been named the sixth president of Germanna Community College, the first woman to hold the position.

"Janet brings outstanding qualifications to this presidency," said Dr. Glenn DuBois, chancellor of Virginia's Community Colleges. "She's a dynamic community college educator with an impressive resume of significant leadership positions."

Gullickson will succeed Dr. David Sam, who has served as Germanna's president for nearly a decade. Sam announced last summer that he would retire at the end of the current academic year.

Gullickson presided over two community colleges, including her current position as president of Spokane Falls Community College, a position she has held since 2012.

Prior to that, she served two years as chief academic officer for the second largest district of the Community Colleges of Spokane. Gullickson served as president of Front Range Community College in Westminster, Colorado, between 2004 and 2005. She was also interim president and provost of what is now known as Minnesota's Northeast Higher Education District.

Gullickson holds a doctorate in education from the University of Minnesota, a master's degree from South Dakota State University, and a bachelor's degree from the University of South Dakota.

Gullickson was one of three finalists for the position. The other two top contenders were Dr. John R. Donnelly, currently vice president for instruction and student services at Piedmont Virginia Community College, and Dr. Linda Thomas-Glover, current president of Eastern Shore Community College.

Germanna Community College is a two-year, public institution of higher education, serving some 13,000 students in academic courses and workforce development training.
---
Monday, April 10, 2017
Wal-Mart Stores East leases industrial space in Spotsylvania County
Wal-Mart Stores East LP has leased 46,530 square feet of industrial space in McK Business Park at 3010 Mine Rd. in Spotsylvania County, Virgil Nelson and Wilson H. Greenlaw Jr. of Cushman & Wakefield | Thalhimer handled the lease negotiations.

In other lease transactions for Thalhimer in the Fredericksburg area:

Rappahannock Goodwill Industries leased about .8 acres of land near Fredericksburg Center B Building at 11900 Main St. in Spotsylvania County, Berkley Mitchell handled the lease negotiations on behalf of the tenant and Virgil Nelson represented the landlord.

Rappahannock Goodwill Industries also leased 12,000 square feet of retail space in the Furnace Road Project located at the intersection of Garrisonville Road and Furnace Road in Stafford County. The Goodwill retail store will join Walmart Neighborhood Market, Sheetz and other retailers in the project. Berkley Mitchell handled the lease negotiations on behalf of the tenant.
---
Monday, April 10, 2017
STAY ALERT FOR HARRISON ROAD TRAFFIC SHIFT WEDNESDAY IN SPOTSYLVANIA
Eastbound Harrison Road traffic, west of Route 1, will move onto new pavement after

will move onto the new pavement after on Wednesday, April 12

Drivers on Route 620 (Harrison Road) in Spotsylvania County should be alert for a new traffic pattern starting Wednesday, April 12, in the intersection improvement project work zone.

Eastbound Harrison Road traffic, west of Route 1, will be shifted slightly right onto new pavement shortly after 2 p.m. Wednesday.

Motorists should be alert for brief traffic stops over a 30-minute period as eastbound traffic is transitioned onto new pavement.

Westbound Harrison Road traffic will not be affected. Westbound Harrison Road traffic will continue traveling in the existing westbound lane.
---
Friday, April 7, 2017
AMERICAN PICKERS to Film in Virginia
The TV show American Pickers are heading to Virginia this May and are looking for leads throughout the region, specifically interesting characters with interesting items and lots of them! They are looking for different, unusual, and unique items too – something we've never seen before and with an interesting story!
Feel free to share this with individuals, social media etc. If interested call: 1-855-OLD-RUST (653-7878), or e-mail: AmericanPickers@cineflix.com.
Also on Facebook: @GOTAPICK
Please note that Mike and Frank only pick private collections so NO stores, malls, flea markets, museums, auctions, businesses or anything open to the public.
---
Thursday, April 6, 2017
Identity Theft seminar tonight at CRRL Headquarters
Identity Theft: What You Need to Know
Thursday, April 6, 7 - 8 p.m. at Headquarters Library, 1201 Caroline St., Fredericksburg
Learn what to do if your identity is stolen. Presented by Dwayne McDorman, a licensed financial advisor who has worked with fraud investigators and attorneys.
---
Tuesday, April 4, 2017
New Member Orientation Tomorrow Wednesday, April 5
Open to all new members and new employees of businesses. Starting at 3 p.m. at the chamer office.
---
Friday, March 31, 2017
Duck Donuts opens in Stafford
The store is the the 14th in Virginia. The new donut shop is located at 1475 Stafford Market Place, Suite 103 and is owned by Larry and Katie Scherer and Ryan and Tamara Sloper.

Along with their new Stafford location, the local franchise owners also have Duck Donuts shops in Bristow, Fredericksburg, and Woodbridge.

The popular donut chain founded in North Carolina offers cake donuts cooked to order with a variety of toppings.
---
Thursday, March 23, 2017
I-95 NORTHBOUND RAMP FROM ROUTE 3 IN FREDERICKSBURG WILL CLOSE THURSDAY NIGHT
Route 3 eastbound on-ramp to I-95 northbound (Exit 130/Fredericksburg) will close

9 p.m. to midnight on Thursday, March 23 for a bridge inspection

FREDERICKSBURG – The Virginia Department of Transportation (VDOT) will inspect the Route 3 (Plank Road) interstate overpass tomorrow night in Fredericksburg, and will close the on-ramp to Interstate 95 northbound from Route 3 eastbound to give crews space to properly inspect the structure.

The on-ramp will be closed from 9 p.m. to midnight on Thursday, March 23.

I-95 northbound will be reduced to two lanes at the Route 3 overpass for the inspection work zone.

All other ramps at the Exit 130 interchange will remain open during the inspection.

Detour Route

Eastbound Route 3 motorists seeking to enter I-95 northbound will be directed to U-turn onto westbound Route 3 at Gateway Boulevard. Once on westbound Route 3, motorists can access the I-95 northbound on-ramp from the westbound lanes.

Virginia State Police will assist with traffic control near the work zone.
---
Tuesday, March 21, 2017
Fredericksburg Academy's 25th School Year Recognized by Delegate Mark Cole
Delegate Mark Cole will present a copy of House Joint Resolution Number 825, which commends Fredericksburg Academy for 25 years of independent educational excellence, on Tuesday, March 21 at Fredericksburg Academy.

The Virginia General Assembly has praised the school's contribution to Spotsylvania County and the region. The Clerk of the House of Delegates has prepared a copy to be presented to Karen Moschetto, Head of School at Fredericksburg Academy.

The original authors of this commendation are Fredericksburg Academy's graduating class of 2023, currently eighth-grade students.
---
Thursday, March 16, 2017
Business After Hours Networking on Thursday
Join chamber members and guests at the Business After Hours starting at 5:30 p.m. at Rappahannock Regional Criminal Justice Academy, 3630 Lee Hill Drive, Fredericksburg.
---
Thursday, March 16, 2017
Ribbon Cutting for Alan Chalmers Fine Menswear rescheduled for Monday
Ribbon cutting for chamber members at Alan Chalmers Fine Menswear is set for Monday, March 20 @ 3:45 p.m. Located at 205 Hanover Street.
---
Monday, March 13, 2017
Ribbon Cutting for Alan Chalmers Fine Menswear is postponed
Due to expected bad weather.
A new date will be scheduled.
---
Friday, March 10, 2017
Don't Forget-Daylight Savings Time
Set your clocks forward on Sunday, 2 a.m.
---
Thursday, March 9, 2017
Smith Bowman Distillery awarded "World's Best Bourbon" for the second year in a row
For the second year in a row, A. Smith Bowman Distillery was awarded the honor of "World's Best Bourbon" by Whisky Magazine. However, this year's award was given to a different bourbon John J. Bowman Single Barrel Virginia Straight Bourbon Whiskey. Abraham Bowman Port Finished Bourbon won in 2016.

The Distillery received the award on February 28, at the Whisky Magazine Awards in New York. Master Distiller Brian Prewitt accepted the award. "We could not be more excited to receive this honor for the second year in a row," said Prewitt. "For our small distillery in Virginia, receiving the title of "World's Best Bourbon" two years in a row for two different bourbons is something truly special for us.

Whiskeys in each category were subject to rigorous blind taste testing to determine the very best.
---
Thursday, March 9, 2017
Chamber Event today! Capital Caring's Ribbon Cutting
Join us at 4 p.m. today at their location 111 Greenwich Dr. Fredericksburg 22408
---
Wednesday, March 8, 2017
Free Tickets for Chamber Members to CYT Fredericksburg Performance!
CYT Fredericksburg is offering chamber members reserved seating at the first performance of Willy Wonka on Friday, March 17 at 7 p.m. Also, members are entitled to a backstage tour and meet the CYT Board Members. To reserve free tickets, e-mail allison@cytfred.org
---
Tuesday, February 28, 2017
Ribbon Cutting Today for BetterMed Urgent Care
Grand Opening celebration at 2 p.m. for Chamber members at BetterMed Urgent Care located at 10004 Southpoint Pkwy, Fredericksburg 22407
---
Tuesday, February 21, 2017
MWH Recognized with National Award for Clinical Excellence
The Wound Healing Center at Mary Washington Healthcare in Woodbridge, has been recognized with a national award for clinical excellence.

Leaders, physicians and clinicians from Mary Washington Healthcare celebrate the Center of Distinction award which was given to the Wound Healing Center by Healogics, the nation's leading and largest wound care management company.

The center achieved outstanding clinical outcomes for 12 consecutive months, including patient satisfaction higher than 92 percent, and a wound healing rate of at least 91 percent in less than 31 median days. Out of 630 Centers eligible for the Center of Distinction award, 334 achieved this honor in 2017.

According to Marie Fredrick, Vice President of Ambulatory Services, "Mary Washington Healthcare is very proud of the achievement of the Woodbridge Wound Healing Center. The Wound Center consistently demonstrates the commitment to those patients afflicted with wounds and works hard to keep the Prince William community healthier by offering the latest high-tech clinical applications, including Hyberbaric Chamber treatment, for our wound patients."

The center offers highly specialized wound care to patients suffering from diabetic ulcers, pressure ulcers, infections and other chronic wounds which have not healed in a reasonable amount of time. Some of the leading-edge treatments offered at the Wound Healing Center include negative pressure wound therapy, debridement, application of cellular-based tissue or skin substitutes to the wound, offloading or total contact casts and hyperbaric oxygen therapy.
---
Thursday, February 16, 2017
Marstel-Day, LLC Recognized with Two Environmental Business Achievement Awards
Marstel-Day, LLC has received two awards from the Environmental Business Journal (EBJ) for its social contributions and natural resource management achievements. These awards recognize the company's "Stand With Wildlife" campaign as well as its support of the United States Fish and Wildlife Service (USFWS) Migratory Bird Treaty Centennial.

The Stand With Wildlife campaign helped shine a light on major wildlife conservation issues of our time, accompanied by a call to action for individuals and businesses to take a stand to support wildlife and biodiversity. Throughout the campaign, Marstel-Day partnered with organizations such as the National Conservation Leadership Institute (NCLI); One More Generation; Soul River; the Jane Goodall Institute; Five Gyres; the Oakland Zoo; the Wildlife Center of Virginia; the Consortium for Ocean Leadership; the Earth Journalism Network; Discover Nature Apps; the US Fish and Wildlife Service and more. These partnerships focused on identifying and developing strategies to protect, restore and enhance the world's diverse wildlife and their habitats and on presenting ways in which individuals and businesses can help make that happen.

Marstel-Day was also recognized for providing support to and coordination of a campaign marking the centennial of the Migratory Bird Treaty between Canada and the United States. Signed in 1916 between the US and Great Britain (acting on behalf of Canada), the Migratory Bird Treaty is the first major US legislation that protects birds migrating across international borders. The two countries agreed to stop hunting all insectivorous birds and to establish specific hunting seasons for game birds. While the treaty has been very successful, migratory birds still face a number of challenges to survival such as the rate of avian deaths from wind turbines, loss of critical habitat, and the use of pesticides, which continues to grow.

The 2016 EBJ awards will be presented at a special ceremony at the Environmental Industry Summit XV in San Diego, Calif. on March 22, 2017. Environmental Business Journal provides strategic information and market forecasts for executives involved in 14 business segments, including environmental remediation, water & wastewater, air pollution control, environmental consulting & engineering, hazardous waste, instrumentation, pollution control equipment, waste management, resource recovery, and solid waste management.
---
Thursday, February 16, 2017
Ribbon Cutting for JDog Stafford Junk Removal & Hauling on Friday, Feb. 17
Join the chamber as we welcome and hold a ribbon cutting ceremony on Friday, Feb. 17 starting at 4 p.m. held at Paddy's Steakhouse & Pub located at 9 Center St., Fredericksburg 22556
---
Wednesday, February 15, 2017
Local Real Estate Market Remains Static
January Kicks Off 2017 with Consistent Numbers for Local Real Estate Market

The Fredericksburg area residential real estate market is static for January compared to 2016. Sold dollar volume increased nominally going from $82,908,504 in January of 2016 to $84,608,188 in January 2017, a 2.05% increase. Median sold price increased 1.73% going from $260,000 in January of 2016 to $264,000 in January of 2017. Units sold fell slightly from 305 units in January of 2016 to 300 units in January of 2017, a 1.64% decrease.

Average days on market, the time it takes from when a listing enters the market until it has a ratified contract, decreased significantly, going from 92 days in January of 2016 to 74 days in January of 2017, representing a nearly 20% decrease. While active listings remain down from the previous year, a bright spot this January has been the significant increase in new listings coming onto the market compared to last year. In January of 2016, 436 new listings came onto the market, but in January of 2017, 604 new listings were added, representing a 38.53% increase.

The commercial real estate market is faring well according to FAAR Board Member Ben Keddie. "Some individual market segments are doing very well by enjoying low vacancy rates and rent growth. Others may have room for improvement but are certainly trending in the right direction. Construction starts and projects in development are increasing, however, most are specialized build-to-suit projects or projects with significant pre-leasing success," states Keddie.
---
Friday, February 10, 2017
Vakos breaks ground at Southpoint Landing
By Lindley Estes, Freelance-Star

W.J. Vakos & Co. broke ground on its newest mixed-use project called Southpoint Landing on Wednesday, which will also serve as its new corporate offices.

The development's first mixed-use building is 48,000 square feet, with three stories and an underground parking garage.

Vakos Companies will occupy the top floor of the facility.

Southpoint Landing is the final area of Southpoint's 335 acres to be developed and is located along I-95 near CarMax. HH Hunt's Abberly at Southpoint apartments were the first phase of the development.

The company said it is working with several national retailers and a hotel and plans several more mixed-use buildings there.

The Vakos Companies are working with GLMG and RCCI as contractors along with Union Bank & Trust for financing for the project.

(From FLS)
---
Thursday, February 9, 2017
Technology company to expand business in Fairfax County
IOMAXIS, a leading technology company plans to invest $3.8 million in expanding its operation in Fairfax County. The company provides solutions to revolutionize cloud, mobile and network products and systems. Additionally, they provide engineering support to leading technology companies as well as the U.S. Department of Defense, the Intelligence Community, National Law Enforcement, Homeland Security. The expansion will create 555 new jobs over the next three years.

"Virginia is at the center of cutting-edge intelligence technology, and IOMAXIS' tremendous growth is a prime example of the Commonwealth leading the way in the ever-growing cybersecurity sector," said Governor Terry McAuliffe in a press release.

"IOMAXIS' decision to expand in Fairfax County is a testament to Virginia's top-rated, high-tech workforce and strategic location on the Mid-Atlantic," said Secretary of Commerce and Trade Todd Haymore. "From startups to large system integrators, nearly 70,000 Virginians work in the burgeoning cybersecurity industry."

IOMAXIS was incorporated in Austin, Texas, and has additional offices in San Antonio and Silicon Valley.
---
Wednesday, February 8, 2017
VRE proposes fare increase
The Virginia Railway Express is proposing a fare increase that if approved would take effect in the summer.

VRE will hold public hearings before deciding on the proposed 3 percent increase.

In a release, the commuter rail service said the increase "is being proposed in order to pay for increased operations costs."

The new fares would involve various levels of increases. For instance, a single trip from the Spotsylvania or Fredericksburg stations to Union Station would increase from the current $11.55 to $11.90. A monthly pass for the same trip would increase from $318.10 to $327.60.

A chart with fare prices under the proposed increase can be found online at bit.ly/2lhBmhq. The proposal would raise step-up Amtrak tickets from $5 to $7.

"The VRE Operations Board considers fare increases every two years to offset expected increases in operating costs," spokesman Paul Dean said in a statement for VRE.

He added that increased costs include such things as labor and maintenance along with rising track access fees for using the CSX Transportation rail lines.

The VRE Operations Board, the Northern Virginia and Potomac and Rappahannock Transportation Commissions and individual jurisdiction members of VRE have to approve the fare increase for it to be instituted.

VRE last increased fares, by 4 percent, in 2015.

Two public hearings will be held locally. The first will be at the Stafford County Government Center at 7 p.m. March 15. The second will be at 7 p.m. March 16 at the Fredericksburg Area Metropolitan Planning Organization office, 406 Princess Anne St.

Written comments can be sent by mail to VRE at 1500 King Street, Suite 202, Alexandria, VA 22314. Letters should be addressed with "VRE, Public Comment" on them. Email comments can be sent to publiccomment@vre.org. Comments can also be faxed to 703/684-1313.
---
Wednesday, February 8, 2017
Spotsylvania graphic design firm acquires competitor
Image360—Fredericksburg, a graphics design studio in Spotsylvania County, acquired local competitor Signs for Anything on Feb. 1.

Signs for Anything, which makes custom sign products in Fredericksburg, is now a wholly owned company that is part of Image360—Fredericksburg.

Its acquisition will allow Image360—Fredericksburg to increase the size of its team and enhance its services and capabilities, according to owner Joe Bury.

Image360—Fredericksburg already creates graphics for such things as vehicles and trade show displays as well as interior and exterior signs.
---
Wednesday, February 8, 2017
Manufacturer to create 150 jobs at vacant GM plant in Spotsylvania
A global manufacturer is bringing 150 jobs to the former General Motors Powertrain plant in Spotsylvania County, Gov. Terry McAuliffe announced Tuesday.

Missouri-based idX Corp., which produces décor, fixtures, graphics and millwork for retailers, is investing $7.2 million to set up shop at the plant on Tidewater Trail, according to a Governor's Office news release.

The company hopes to have a soft opening June 1 and be fully operational later that month, idX spokeswoman Lin Courtois said in an email to The Free Lance–Star. It will fill the jobs over an estimated three years, she said.

An undetermined number of the 150 jobs will be filled by existing employees in Columbia, Md., which is about 90 miles north of Fredericksburg. The company is moving its operations there to Spotsylvania, Courtois said, but idX anticipates hiring a "good number" of Virginians.

She could not immediately provide a pay range for the workers.

The 289,000-square-foot facility across from Fredericksburg Country Club has been vacant since the GM plant closed in 2010.

McAuliffe approved a $400,000 state grant to help the company improve the plant. In addition, the Virginia Jobs Investment Program will contribute an unspecified amount of funding and services for idX's employee training activities.

The company also will receive about $1.5 million in incentives from Spotsylvania over 10 years, according to a county news release. A county spokeswoman said the Board of Supervisors must approve the incentives agreement before she can publicly release it.

Virginia competed against Maryland and North Carolina to win the project, according to the Governor's Office.

The manufacturer is purchasing the 77-acre facility from RACER Trust, which a federal judge created to sell off GM's former assets after the company declared bankruptcy in 2009. The sale is expected to be finalized soon.

idX has locations across North America, in addition to Asia, Europe and the Indian subcontinent to "meet the needs of global customers," the governor's release states. It specializes in wood, metal, glass, acrylic, laminates, veneers and upholstery.

"As idX Corporation expands its presence in the United States and globally, we are proud that the company chose Virginia for its state-of-the-art manufacturing operation to serve the growing Southeast market," McAuliffe stated. "Winning this project is a testament to both Spotsylvania County and the commonwealth's open and competitive business climate, strategic location and top-notch workforce."

Spotsylvania County Administrator Mark Taylor lauded the company's "bold decision to adapt and enlarge" the former plant, saying the jobs will reduce commutes "for some of our talented Spotsylvania workforce." A county news release said the company will expand the plant over five years.

Supervisor Gary Skinner, whose Lee Hill District includes the site, said officials have worked hard to replace the lost jobs at the GM plant, which employed 300 people in its heyday. "idX is a very good start for us to replace those jobs," Skinner said.

Terry Schultz, CEO of idX, said in a statement that the Spotsylvania investment will strengthen the company's East Coast manufacturing and distribution network. He added: "We're eager to get started. We know we will build ...
---
Wednesday, February 8, 2017
Thursday morning commuters may encounter mix of wet, slushy or snow-covered pavement
Snow showers may affect travel early Thursday morning in the Fredericksburg area, with potentially wet, slushy or snow-covered road conditions at the peak of the morning commute.

Virginia Department of Transportation (VDOT) crews have staff, trucks, and materials ready to treat roads. Crews will mobilize before the morning rush hour period tomorrow and will spread sand, salt and treatment chemicals as needed to improve motorist traction.
---
Monday, February 6, 2017
Chamber Business Roundtable on Tuesday!
"Heart Healthy Lifestyle" Speaker: Ed Gillmeister RT/CIT Director of Cardiovascular Services Spotsylvania Regional Medical Center
Comfort Suites Fredericksburg 4615 Southpoint Pkwy.
8 a.m. Breakfast Included
---
Friday, February 3, 2017
Traffic Alert for I-95 Next Week
From VDOT: Motorists should anticipate overnight travel delays next week on Interstate 95 at Fredericksburg, as crews will work on the new Fall Hill Avenue overpass.

Motorists should anticipate overnight travel delays next week on Interstate 95 at Fredericksburg, as crews will work on the new Fall Hill Avenue overpass.

As part of the Fall Hill Avenue widening project, crews will clean and stain the new bridge, which is located at mile marker 131 in Fredericksburg. The work requires double lane closures, which is scheduled for Tuesday, Feb. 7 ˗˗ Wednesday, Feb. 8.

Lanes on I-95 will be closed on the following schedule, weather permitting.

Tuesday, Feb. 7 and Wednesday, Feb. 8

I-95 Northbound at mile marker 131 (Fall Hill Avenue)
Double lane closure 9 p.m. ˗˗ 1 a.m.
I-95 Southbound at mile marker 131 (Fall Hill Avenue)
Double lane closure 1 a.m. ˗˗ 5 a.m.
All lanes reopen to traffic by 5 a.m.
---
Tuesday, January 31, 2017
Ribbon Cutting on Thursday, Feb. 2
Join us as we hold a grand opening ribbon cutting for Atlantic Bay Mortgage Group, 10008 Southpoint Parkway, Suite 101 starting at 4 p.m.
---
Wednesday, January 25, 2017
VDOT Rappahannock River Crossing Hearing Today
The Virginia Department of Transportation is holding a public hearing on the project in the Madison and Monroe Rooms at the Fredericksburg Hospitality House and Conference Center located at 2801 Plank Road on Wednesday, Jan. 25 from 5 to 7 p.m.

The main focus will be on the two added collector-distributor lanes.

The rooms are accessible between 5-7 p.m. to review displays, proposed plans and discuss questions with Virginia Department of Transportation staff. No formal presentation will be given at the public hearing.

Here's a snapshot of the project, provided by VDOT:

"The I-95 Rappahannock River Crossing Southbound project will add 2 collector-distributor lanes parallel to Interstate 95 southbound between Exit 133 (Route 17) in Stafford County and Exit 130 (Route 3) in the City of Fredericksburg.

"A new I-95 southbound bridge will be built over the Rappahannock River to carry the new collector-distributor lanes. The new bridge will be built parallel to the existing I-95 southbound bridge at the Rappahannock River.

"The project seeks to reduce I-95 congestion at Fredericksburg by providing local traffic with an additional route to travel between Route 17 and Route 3 without merging into the interstate's general purpose lanes.
---
Tuesday, January 24, 2017
Design for major I–95 project to be unveiled
By SCOTT SHENK THE FREE LANCE–STAR


The Virginia Department of Transportation will unveil its proposed design of a major Interstate 95 project at a public hearing on Wednesday.

The meeting will be held from 5 to 7 p.m. at the Fredericksburg Hospitality House & Conference Center in Central Park, where the preliminary design for the southbound Rappahannock River Crossing project will be on display.

Officials from VDOT also will be on hand to answer questions, and attendees will be able to provide comments on the plans.

The plans for the crossing project call for two collector-distributor lanes to be added parallel to the primary I–95 lanes between U.S. 17 in Stafford and State Route 3 in Fredericksburg. A new bridge also will be built parallel to the southbound span over the Rappahannock River.

The project plans call for modifications at the U.S. 17 and Route 3 interchanges and the ramps at the Virginia Welcome Center near Route 3.

The new lanes are meant to serve as an alternative for local traffic, which is supposed to ease congestion on the main lanes.

Work on the $125 million project is expected to begin this year and be completed in 2022.

Those who don't attend the meeting can still comment on the proposed design, which will soon be available on VDOT's website.

Comments on the proposed design can be submitted by mail to Mr. Krishna Potturi, VDOT Project Manager, 87 Deacon Road, Fredericksburg, VA 22405. Emailed comments can be sent to Krishna.Potturi@VDOT.Virginia.Gov; write "Rappahannock River Crossing Southbound public comment" in the subject line.

VDOT will accept comments through Feb. 8.
---
Friday, January 20, 2017
Last Chance to Buy Gala Tickets TODAY!!
Hurry! Get your tickets today for the Chamber Awards & Gala
Buy Here
---
Thursday, January 19, 2017
Fredericksburg Boat Show This Weekend at Expo & Conference Center
Been thinking about finally getting that boat you always wanted? Looking to swap your old boat for a new one? Then you really might want to think about taking some time this weekend to visit the Fredericksburg Expo & Conference Center, 2371 Carl. D. Silver Parkway.

It's the annual Fredericksburg Boat Show, from 1 p.m. Friday to 4 p.m. Sunday.

Yachts? Check. Jet skis? Yep. Also fishing boats, pontoons, cruisers, speed boats and much more.

Tickets are $9 at the door, with various discounts available.
---
Tuesday, January 17, 2017
Ribbon Cutting Today for Avery Hess Realtors
Join us at 4:30 on Tuesday for Avery Hess Realtors New Office Location at 11019 Leavells Road, Fredericksburg.
---
Friday, January 13, 2017
FAAR Reports a Strong Real Estate Market
The 2016 real estate market showed an increase in home sales. The year closed out with a total sold of $1,663,945,082, a 13.70% increase from 2015.

There was a 10% increase in total units sold in 2016, going from 5,145 in 2015 to 5,686 this year. Median price appreciated by 4.72% increasing from $262,500 to $274,900 in 2016. Days on the market, fell nearly nine percent with houses averaging 78 days on the market in 2015 compared to 71 days in 2016. Mostly sold were 3- and 4-bedroom, single-family homes, making up 83% of the total units sold.

FAAR President Linda Fosdick said, "We are now seeing the conversion from a buyer's market to a seller's market spurred by a reduction in available inventory."

The market experienced a 20 percent decrease in days on the market for December with houses averaging 76 days to sell compared to 95 days in 2015. Buyers continued to purchase at the same level as 2015, but with a reduced inventory causing homes to move more quickly. There were nearly 14% fewer listings in December compared to December 2015.
---